Camping is in Tents (Surf Trip 4)
I love that, Camping is in tents. Did you get it? In tents? No? Ok. Fizzer celebrated his 42nd 32nd birthday last weekend on the Gower. The surf report for the weekend looked pretty rubbish. The whole of the United Kingdom was surrounded by the colour purple on the NOAA/NCEP WAM so I did not expect to get any waves. Fizzer however was optimistic at first that there would be some waves and then as the weekend approached a lot less optimistic. So when I arrived after the five hour drive through blanket rain, I was pleased to see something going on in the ocean (and also that the rain had stopped to allow us to put up the geo-desic tent). Here is Davey and myself heading out into the choppy ocean. It looks pretty cold from the picture but the water was real nice, I did not feel cold even after a 1.5 hour session. The waves were a little bit all over the place and it was onshore and I did not catch that many because I used up all the energy just trying to get out!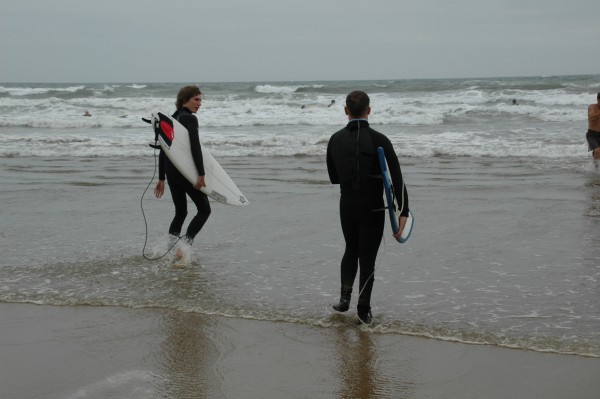 It's on
That night we all went to the local pub for something to eat and some booze. I actually felt a little bit ill at first because I'd managed to swallow some of the sea, something I have not done for ages. The show had to go on though and after a few stellas, apple and chicken pie and three rounds of baileys and ice the evening was commencing. It was good to see Paula and Paul again after I bumped into them in Cornwall two weeks before. We live about 2 miles apart in London but only meet by the beach, which is a nice thing.
The next day we scaled one of the hills that looks out to see. The view is amazing and it was also a good spot to try and see where a good place to paddle out and catch some waves is.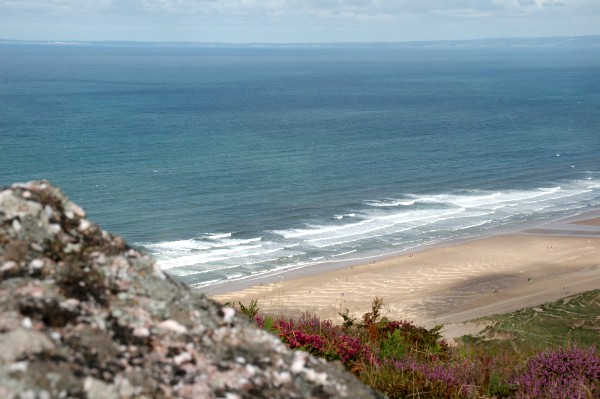 Breakers
The view in the ocean looking back at the land was just as good, maybe the United Kingdom's version of the view at Teahupoo.
On second day and the waves were a little cleaner, they still lacked any kind of punch but I think that is typical for summer surfing, when I was on a wave I could not get the speed to break the force of gravity to let me travel up a wave. Saying that there were a couple of nice lefts and it's all good practice!!!
The weekend sadly came to an end and we had to pack away and return home. I snapped a photo of these sheeps in a field just outside of the campsite, it came out pretty good I think –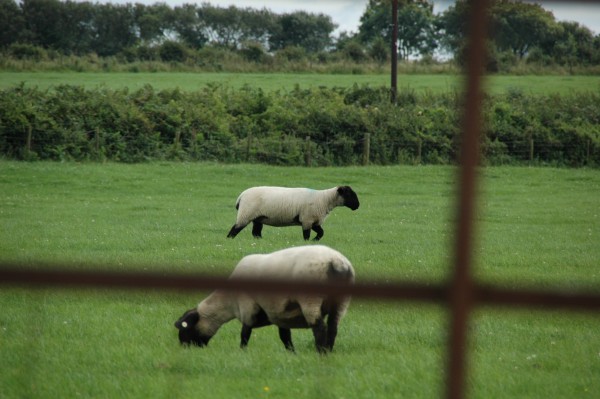 From sheep on the Gower to….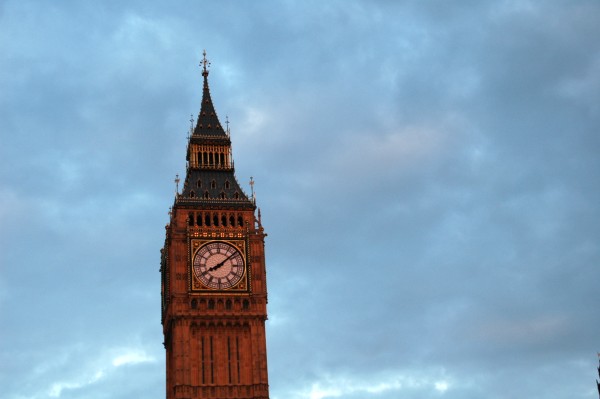 ..our nations capital
That's pretty much it, now I'm getting all packed away for next weekend's trip to Biarritz/Hossegor in the South of France for a weekend on the beach with the boys from Warwickshire..it's going to involve surfing as well (if it's not too big and I can persaude Gin, Kim and Anders to get their feet wet). It's going to be cooooooolllll!!!! If you have two minutes checkout the gaspar ball of death cam…brilliant.