C - O - L - D (Surf Trip VI)
And it will only get colder from here on in. The Global Surfari Surf Report was putting out 3ft waves with hardly any wind but short periods for the weekend. So it was with a 50/50 decision that we headed to the Welsh capital of Cardiff for an extended surf weekend where Davey was kind enough to put us up at his house.
As it is the end of October, the water is now beginning to cool down to a lovely 13.5C so I also got to buy a new wetsuit! I got the same one as Fizzer (but in a different colour) the Ripcurl Ultimate Fireskin 5mm, some booties, billabong gloves and a hoodie which I can choose to wear and not to wear depending upon my bravado.
We drove to Rhossili Bay late in the afternoon to hit the waves in my new wetsuit, didn't really catch much because it was getting too dark and I was getting used to my new wetsuit, managed to get some cool photos though –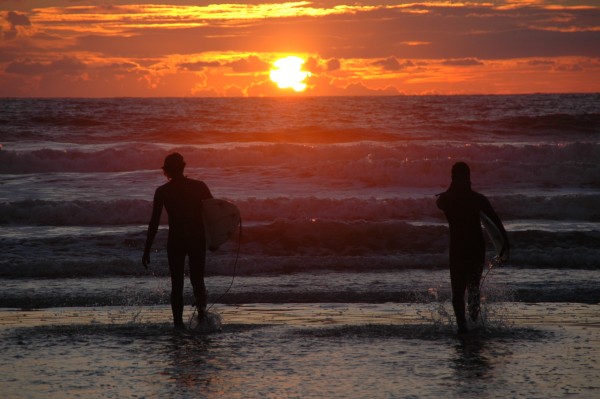 Fizzer (right), me (left) Heading Out (late)
Surfing isn't all fast paced and about getting smashed around by a violent angry ocean in sometimes freezing cold seas. You only have to look at the amazing scenery in this picture to see that. I am pretty sure it is more than just a sport, looking around at the ocean, sky and coastline from the sanctity of the line is very peaceful and meditating and maybe explains why closing my eyes after a surf session I can still see the waves on the insides of my eyelids. There's a thousand surf DVDs you can buy that will tell you the same!
We stayed in for as long as the sun would allow us. I could tell it was time to come out when I got hit in the face by a wave that I could not actually see because it was too dark! We then had to find our way back to the cars without any lights whatsoever, but it was so nice and snug in the new suit that I didn't mind.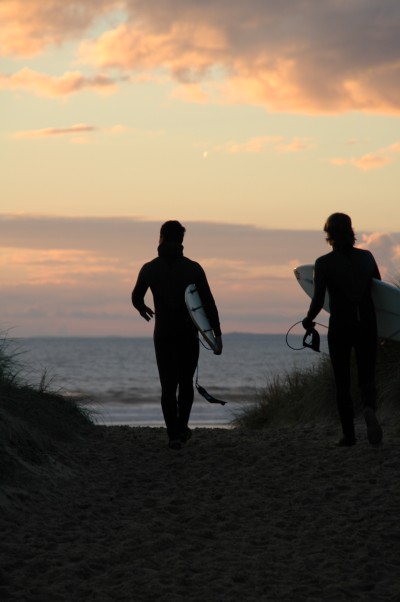 Another cool shot
And to get a sense of temperature difference between England and Australia surfing I give you this comparison –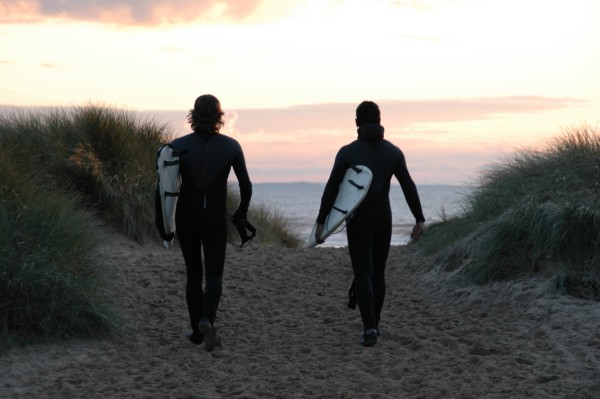 13.5 degree C water – South Wales, United Kingdom
vs.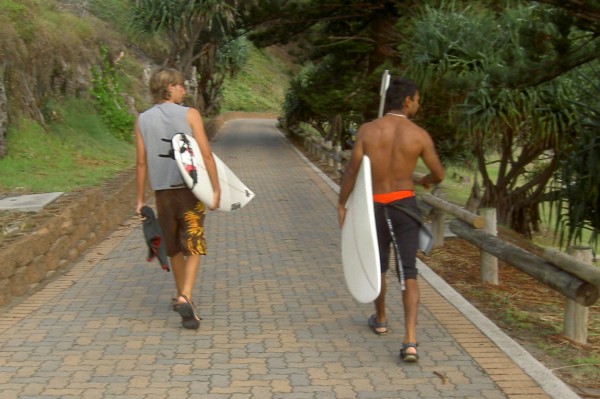 24 degree C water – New South Wales, Australia
I know which one I prefer! Can you guess which?
The next day I decided the water was still far too warm for a 5mm so I went back to my trusty 3/2 and wore the hoodie for good measure. This was a big mistake, I got some real nice waves at the beginning of the session but then ended up just sitting out back trying to get the strength and heat back inside me to attempt to ride some more waves. Eventually I realised that I was too tired and too cold to catch any more waves and should have gone with the 5mm! Nevermind! Here is a picture of all of us with 'Big Blue' the special board –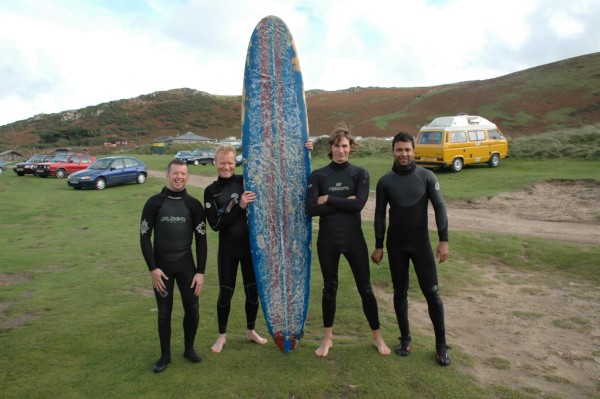 Davey, Andy, Big Blue, me and Faiser Chief
We retired to the excellent Kings Head Hotel in Llangenith for drinks and then headed back to Davey's house for an excellent spag bowl and watched surf DVDs and films before passing out after what was a fantastic but cold surf weekend on the Gower, Wales!
On the way book I took a little de-tour to check out Stonehenge, somewhere I had not seem before (that I can remember). It is funny because from the pictures it looks like it is in the middle of nowhere. When it is actually no more than 20 metres from a major road, which probably isn't very kind to the site considering the stones were put there approximately 5000 years ago –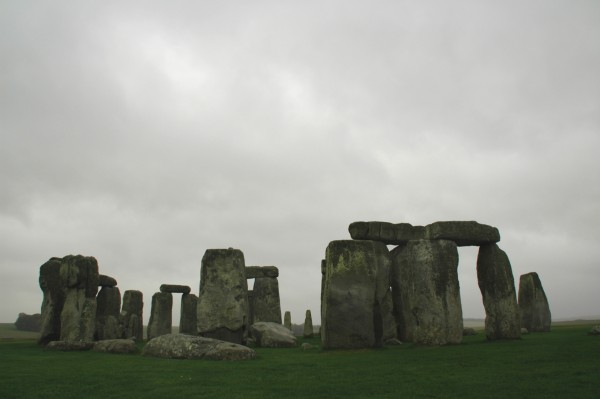 Cold, Windy and Wet Stonehenge
If you use Windows XP, click here for a much more summery version, courtesy of Microsoft.
Well that's it! Off to North Yorkshire next weekend, there might be some surf in Cayton or Whitby, lets wait and see!!