Had an excellent birthday weekend. Amy got me a 30 minute introductory flying lesson at Bankstown airport, it will probably get me hooked, there goes the pension! (only joking parents) we are also going to see Cirque du Soleil in a few times as well!
Some bad news to start with, the anniversary weekend as you saw last entry involved a lot of walking through bushy areas and stroking kangaroos. I woke up last week and found what looked like a blood blister on my side. I picked it off and thought, hmm what is that, then I saw it had little bits moving in it! Arggh!!! Snakes, Spiders, Sharks and blood sucking Bush Ticks!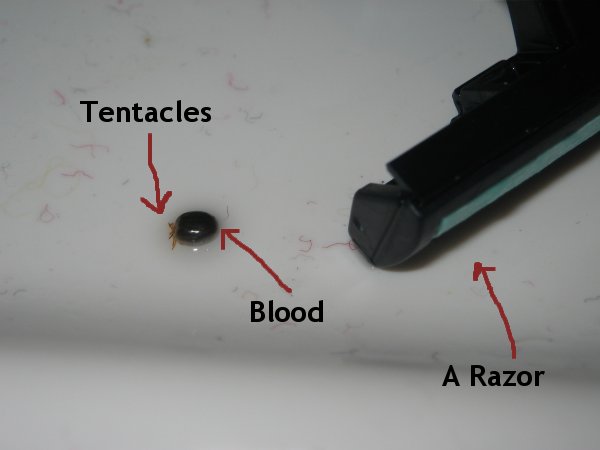 Bush Tick!!
I wanted to go out surfing this weekend and the waves were looking really good on Saturday, so I thought cool, I'll go out on Sunday (as I was busy Saturday). Then Sunday came and the waves were too big, so no surfing, bring on the spring!
Saturday night we hit the Bavarian Cafe with Simone, Andrea, Matt and Stu for dinner, it was very nice indeed –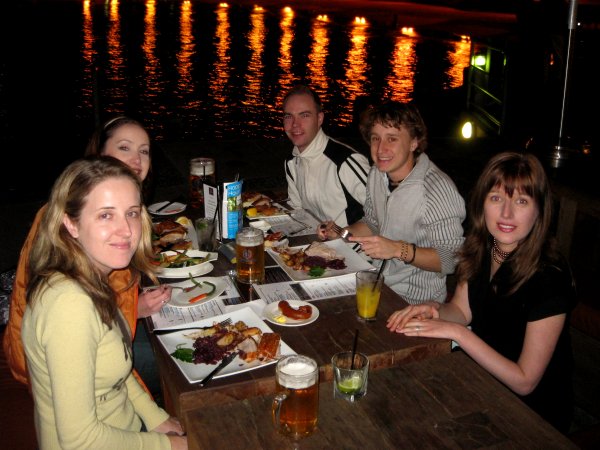 Bavarian Cafe Dinner
Later that night was Scott's 30th over at the Trinity bar in Surry Hills. It was an 'S' party, where everyone had to go as something starting with S. Amy decided to go as a Swedish person and I went as a Saudi Soccer Supporter, I thought we'd done quite well but when we got there we saw Sherlock Homes, Sheiks, Serial Killers and a man dressed as a cow (steak).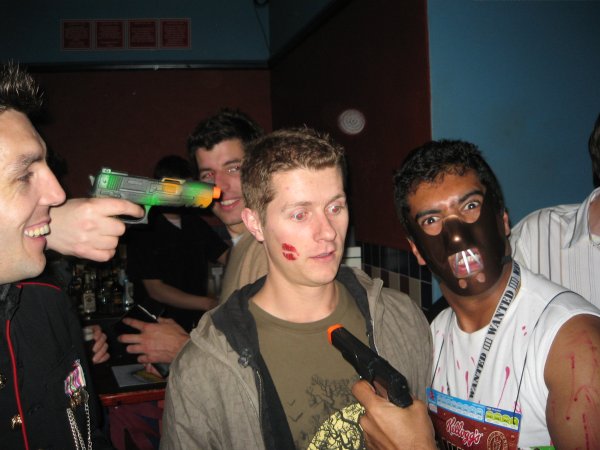 Mike with Hari the Serial Killer
The next day Amy took me to Cafe Sydney for my Birthday which looks over Sydney Harbour, it was really nice and we had great food –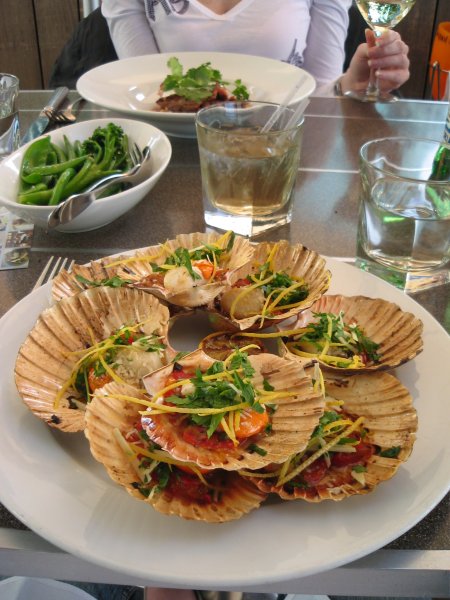 Yummmmy!
Tara Moss was having lunch just behind us and she's a celebrity.
It was a beautiful day and was fittingly ended with a trip to Ikea, Homebush.