Believe it or not 'stralia isn't just blue skies, hot weather and beaches. Some parts (very few parts) get snow and inland from Sydney just past Canberra is Mount Kosciuszko the highest mountain on the Australian mainland. It is a mere 6 hour drive from Sydney so Esther, Rach, Amy, Gemma, Mike, Matt, Chris and myself headed down for a long weekend of ski.
Amy and I both decided to learn how to snow board instead of ski, which I have only tried once in 1995 in Austria for a week.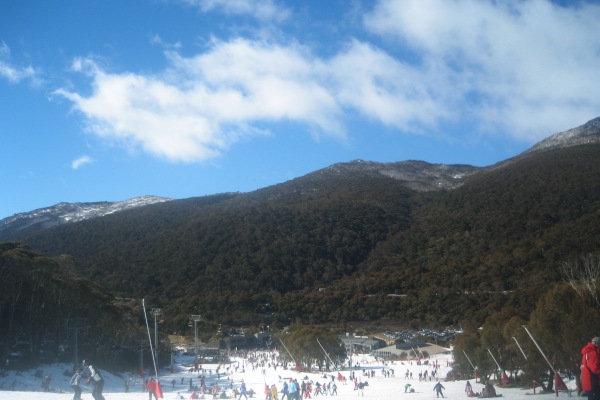 Friday Flats Learners Slope
It was good fun learning how to snowboard although most of the time was spent falling over, we had a lesson on both days and by the end of the second lesson we had learnt all the basics to snow board down a mountain.
Here is Amy on a lesson practicing 'toe side' which was pretty difficult as you go down the mountain backwards but it necessary for the S style line that you have to take.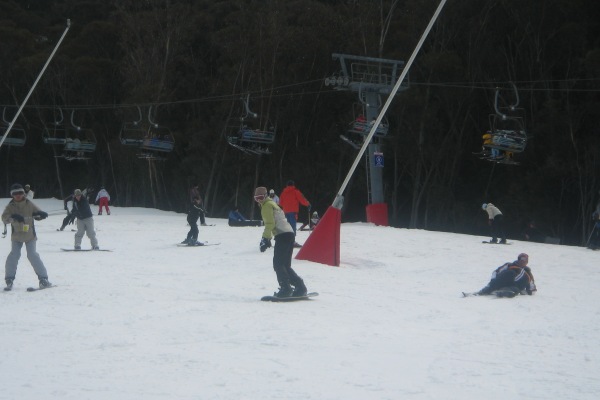 Amy in green jacket 'toe-side'
Some of my old work friends were also on the slopes learning to snow board at the same time, it was good to see Sausage Dog, Corinne and Naomi all learning on the same weekend as us, a small world!
Après-ski was a lot of fun, we stayed at a pet friendly eco-alpine bed and breakfast called Bimblegumbie, which had dogs running around and lots of very interesting things that Prudence the owner had collected.


Bimblegumbie Sign
The first night Rach had booked dinner at the Crackenback Cottage Restaurant which was absolutely delicious, we had the full courses and really enjoyed ourselves –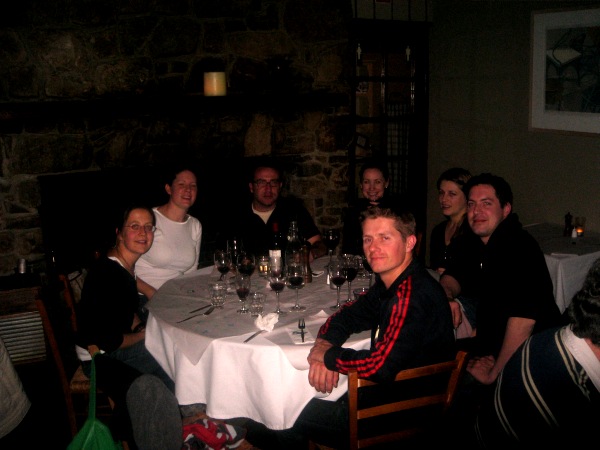 The gang at the Crackenback Cottage Restaurant
After a couple of drinks we went into the Crackenback Maze, which is one of the largest Mazes in the Southern Hemisphere. In the dark and after a few drinks it was very difficult to find the way out, almost to the point of thinking we would never get out. luckily Mike used the 'always turn left' technique to find his way out, so at least we knew it was possible for the rest of us!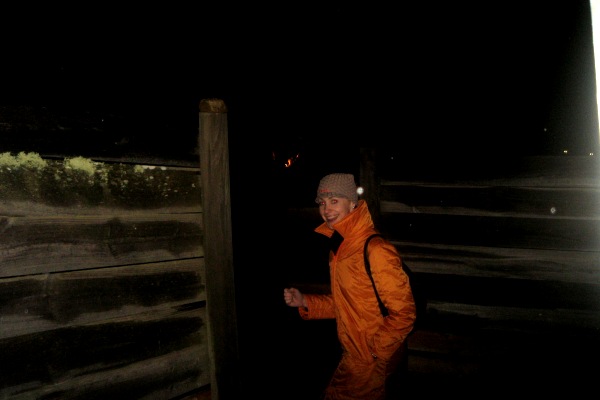 Stuck in the Crackenback Maze!
The second night dinner was cooked at Bimblegumbie by Gemma and Chris where they made some great food. My job was to break the bread into small pieces, Mike asked me to try and re-create Stonehenge with bread bits and align it correct with the light in the next room which looked like the sun to try and re-create some kind of summer solstice pilgrimage for neo-druids –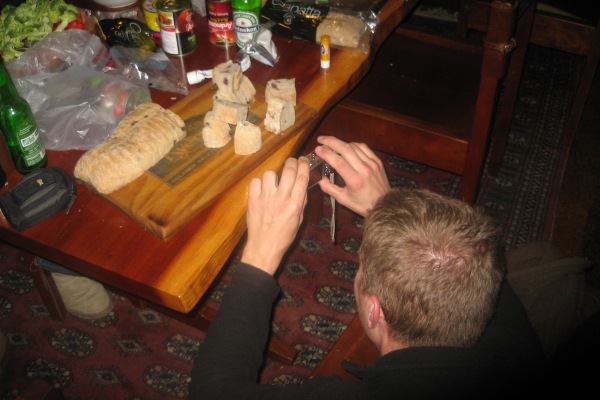 Stonehenge Ciabatta Recreation Photography
Michael even went to the extend of fashioning a piece of cucumber into a druid using a pen; I am fairly sure Michael has a semisynthetic psychedelic drug addiction.
After dinner Chris borrowed Prudence's guitar and Michael got his drums out for an acoustic performance of some songs and even some Bhanglassi numbers.
On the last day of snowboarding (and some very tired arms) we headed back to Sydney, with a quick stop off for dinner in Canberra. Near the Ski resort is the town of Jindabyne, which has some amazing geographic features –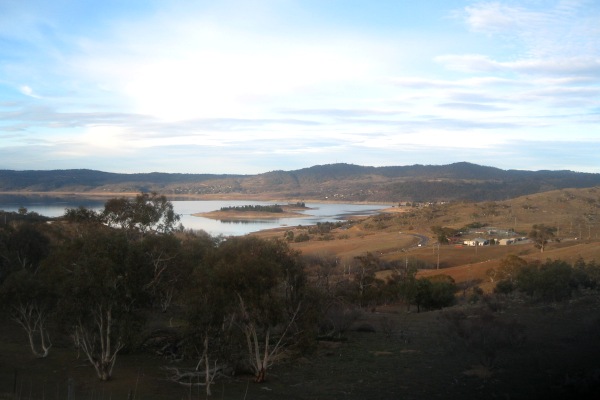 Jindabyne from Alpine Way
The motion picture epic Jindabyne is an award winning film that is set in the town, where you get to see a lot of the amazing scenery it has to offer.
An excellent ski trip (aching now) thanks for organising it Rach.