A little while ago Billy Corgan, of Smashing Pumpkin fame, posted on his MySpace page that he wanted some advice as to where to go whilst he was in Europe and where would be a good place to meet up with people. I was in Australia at the time and decided to send him some info on London and especially the South Bank as that is where I lived near to when I was there. My email went as follows –
To: Billy Corgan
Date: April 17, 2005 6:20 PM
Subject: London Meet
Hi Billy,
I think you are going to draw some pretty large crowds at all the destinations once word gets out (and it will) that you are available for a meet up! I am living in Sydney, Australia at the moment but my home city is London so I will give you some pointers for where I think is a good place.
The grounds outside of the Tate Modern would be a good meeting place, it is centrally located and very interesting (http://www.tate.org.uk/modern/default.htm) and if everyone gets bored you can walk around the Tate Modern which will keep everyone occupied for hours! If not there you have the entire stretch of the southbank which is full of restraunts/art galleries/cafes and history as well as nice views of London. (http://www.southbanklondon.com).
Have a nice trip around Europe, I miss all the history living in Sydney for 11 months, I return to London in June though. I might not be there when you are there which is ashame although I am definetly coming to a gig or two around Europe!
I run a website called http://billycorgan.info, it gets a lot of visitors. Can you try and get the designers at billycorgan.com to link me when they design the whole site?
Thanks,
Gary
---
So today I logged into MySpace to have a look at Billy's page and find this picture –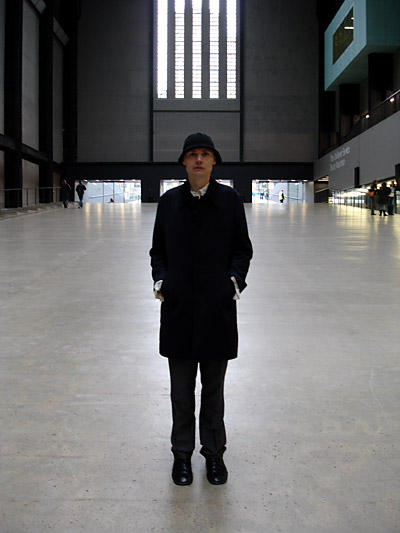 Billy Corgan in the Tate Modern
So, maybe Billy took my advice and visited the Tate Modern! If he did…rock on!!