I set off in the afternoon and set my stopwatch going, 32 hours and 50 minutes later I was in Dorchester, my parents new home town in the South West of England. The flight was really good I managed to get an upgrade for the entire journey so it was good to sleep on the flight.
I tried to see how far I could go with just wearing a t-shirt. I managed to get all the way to Waterloo which is a train station in London. It is partially outside so the cold got too much and I had to put a coat on. My parents have got a lovely new house which I think is nicer than their old one, it has a thatched roof and nice wooden beams in the rooms. I helped my parents with some drilling and unpacking boxes and they showed me around Dorchester.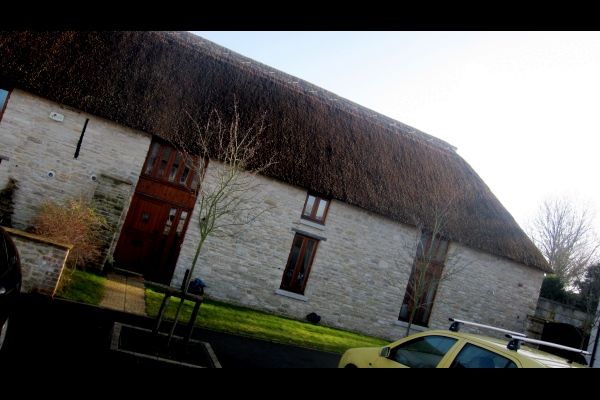 Parents new home in Dorset
One of the towns we visited was called Lyme Regis, which I vaguely remember going to on a trip with primary school. We went to a nice little bakery house where you sit on these benches and have pastries of all sorts and hot drinks. My parents got chatting to some people who ended up getting their phone number as their friend might be interested in buying their lawn mower, so the people down here are also really friendly.
Pastry Shop in Dorset
There was one guy out surfing with his mate in a Kayak, the waves were really not waves at all but just surges of water that broke on the beach but occasionally one would break far out enough that the guy paddled for it.
The next day we went to a place called West Lulworth which has a fantastic cove, it also has a walk you can do which means going up an extremely large hill, we didn't do it but I imagine the views were fantastic.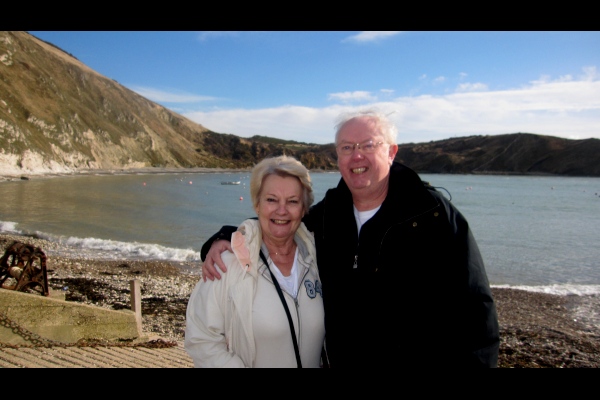 Mum and Dad at West Lulworth
A place we visited a lot was Poundbury, this is where my parents lived when they were renting before they found the house they wanted to get. It was a model town designed or visioned by the Prince of Wales. It is nice but also a bit strange, I think it requires a few years of aging to get it to look a bit more normal. My parents say some people refer to it as Disney Land –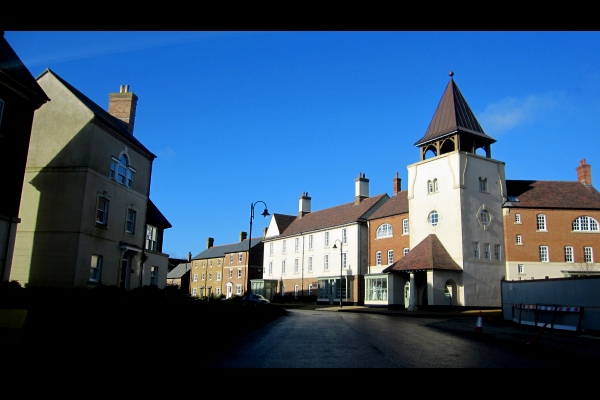 Poundbury
After staying at my parents house for a week I made the trip up to Yorkshire for Dinnie's wedding. I got a flight from Southampton up to Leeds, where the temperature was significantly less and I was considering the one light pullover and adidas top that I brought with me may not be enough.
David and Betty met me at the airport and were kind enough to let me stay at theirs with their two cats, horse, two donkies, chickens and dog Poppy. We visited an auction, which was what eBay used to be like before they invented eBay.
On the Saturday I woke up and there was a layer of snow, which was nice to see and the forecast was not for it to continue. David and Betty drove me around the country side and showed me a farm with deer and bison –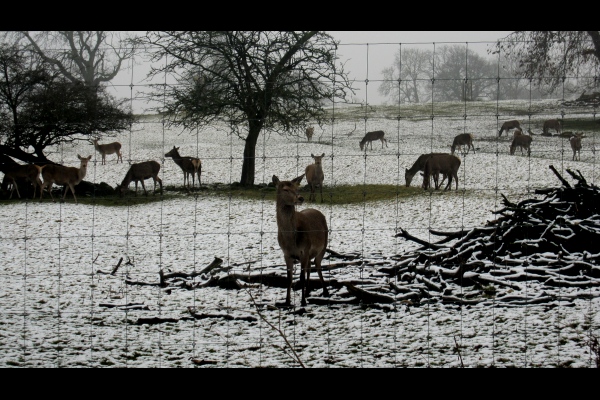 Deer in the Snow in North Yorkshire
On Sunday I went to Crathorne Hall, where Ian was going to get married. Ian made me a bit of money in the early 2000's when a picture of posted of him on this blog became the number one result for a google search of Paris Hilton Naked. A lot of traffic hit that page so I put ads on it!!!!
It was great to see all of the crew up there, Andy, Alex, Gin, Chris, Ian, Ian and Ki and was a lot of fun with a lot of laughs, it felt like nothing has changed which I think is a sign of good friends –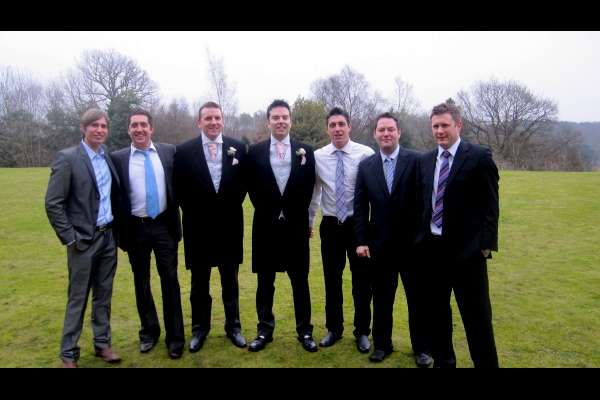 Mates from home and me.
Ian C as per usual got totally out of control, he says he has "no inner monologue" which is true, I've got some great video footage of him on the dance floor.
Here's a picture of Ian and his new bridge Michelle enjoying one of their dances –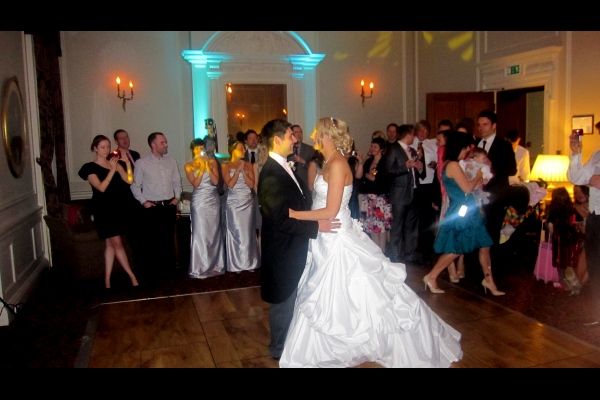 Ian and Michelle First Dance
It was a great wedding and a lot of fine, a bit or a soar head now. I then got the train down to London on the 13:16 East Coast service, sitting opposite Sir Richard Dalton, I didn't need a magazine for the journey I just listened into his conversations he was having about Iranian diplomacy which at the moment is all up in the air which was very interesting.
I love visiting London it is a great city, you can walk around for hours and just find new streets that you didn't know existed until you walked down them. I first stayed at a hotel near Marble Arch called The Arch Hotel but then moved to No. 5 Maddox Street for the rest of the trip, which was right off Regent Street –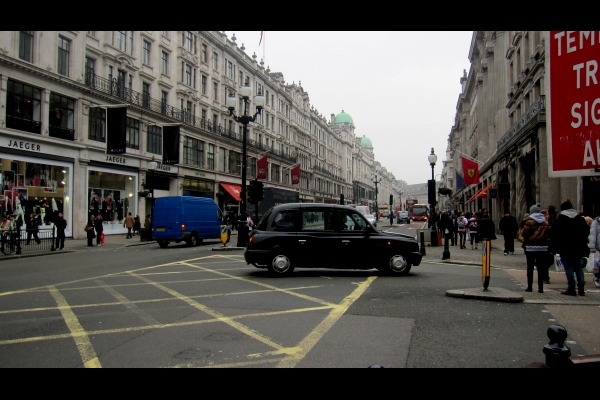 Regent Street, London
The next day I met up with Mark, Karine, Nina and Felix at London Bridge, it was fun going down there. I used to live here when I first moved into London proper and Mark lived around the corner so it was just like the old days with the addition of Felix and Nina!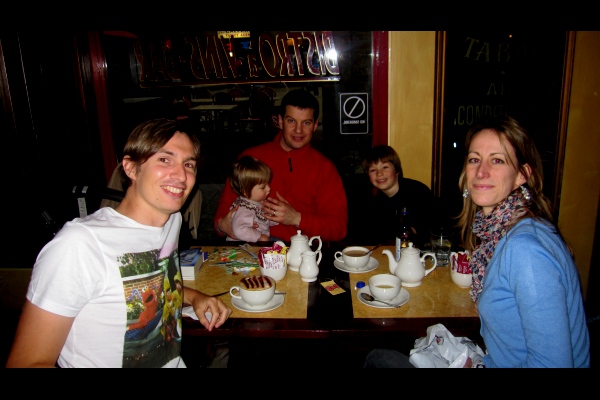 With the Ponsfords at London Bridge
I met up with the guys I work with/for in London at One Aldwych that night which was good as I have not seen them for a long time! The next day I walked around London a lot and met up with Matt my friend from University. We went to a bar called Sketch which was really trendy, the bar was in some sort of Dome and the restaurant had moving artwork around the outside of it. We then went to my favourite place to eat in London "Ping Pong". I actually ended up going there three times during my trip to London!
The next day I met up with Lorraine who used to live in Manly and soon will do again. We went to see Legally Blonde at the Savoy Theatre. It was an awesome show and really good to see Lozza at the same time! Then it was back off to Australia on the A380 again, 32 hours later and I was back in Manly and I don't have very much jet lag which is great (I can thank the business class upgrades for that!).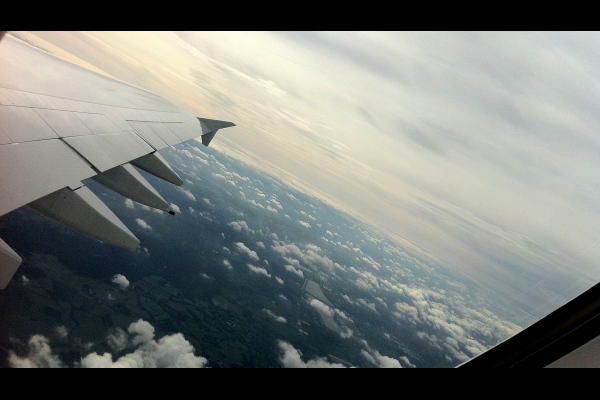 A380 with London in the background
The video is in the works of course! Check back soon.