Bday, Thanksgiving, BBQs and Santas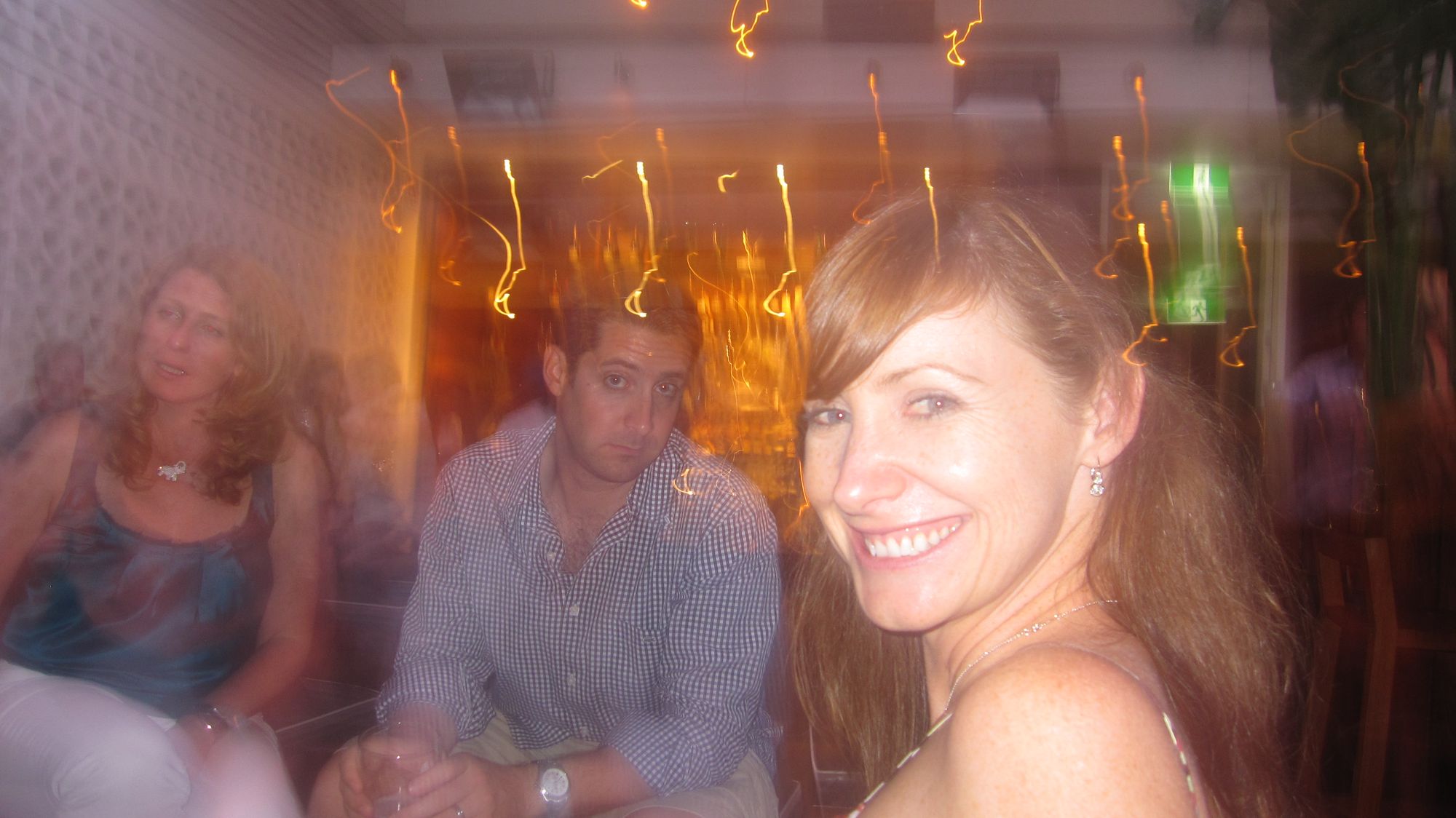 We've had so many action packed things happening it has been hard staying on top of the blog entries. So here's a action packed entry with lots of different things happening!
It was Amy's birthday last week and we had a little surprise night away at the Blue Hotel in Sydney as well as dinner at Kingsley's restaurant on Woolloomooloo Wharf.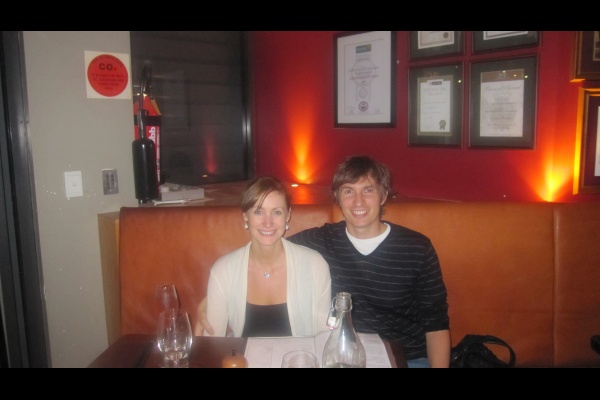 Amy's Birthday and Kingleys
We stayed in a little cabin two level loft and we could walk to the city in the morning which was nice and made a change from getting the ferry across. Although I made a video of the ferry journey which I hope to edit into something to put on the blog however I'm back logged with video processing at the moment.
A couple of nights later and one of Marcy and Chris' friends had somehow managed to persuade Bavarian Beer Cafe (a German restaurant) in Bondi to not only allow about 40+ people book out half the restaurant but also serve them a totally different meal which included Turkey and cranberry sauce to celebrate USA Thanksgiving.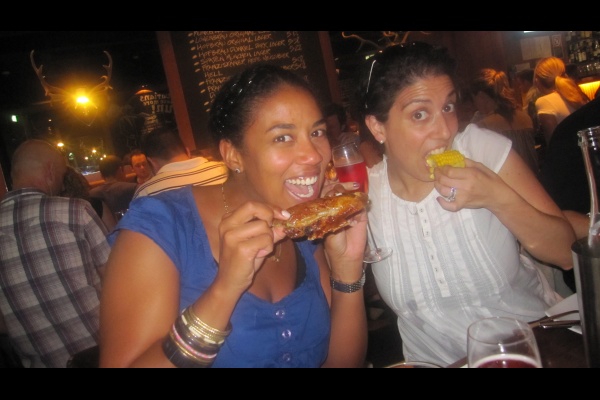 Sue and Marcy enjoying Thanksgiving at the Bavarian in Bondi
It was really good fun and was just like Christmas dinner but a  few months early and a bit of Sauerkraut thrown in to mix things up!
Next up was Amy's Birthday which she organised for us all to White Water restaurant in Manly, it was good fun and a good turn out, good to see Hugo could make it as well as Simone and Stu before they jetted off around the world on their Honey Moon –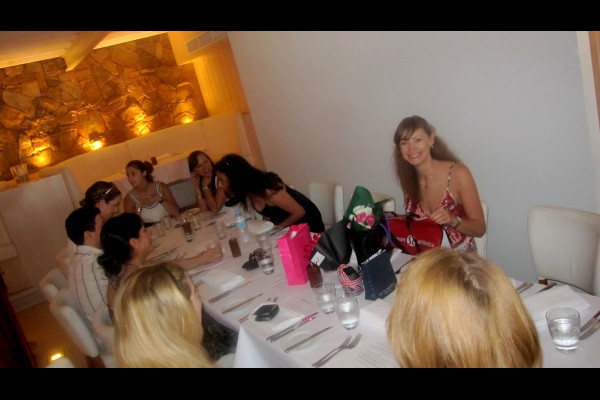 Amy at White Water with her friends
It was a good fun night, Amy got really drunk and was dancing around Coles the super market for a bit which was pretty funny. We had a few drinks in Shore Club which is a popular 18-25 hang out, we saw some funny fashions and then decided to go to Mortar and Pestle for some Thai dinner before going home, it was a big night, especially considering the next morning we had to get up at 6am to go into Sydney, dress as Santa and then run from the bottom on George Street to Darling Harbour!!
Lucky the run turned out to be more of a walk and it was seriously fun. Here's Chris and me outside Macquarie Bank looking like we're going to rob the place –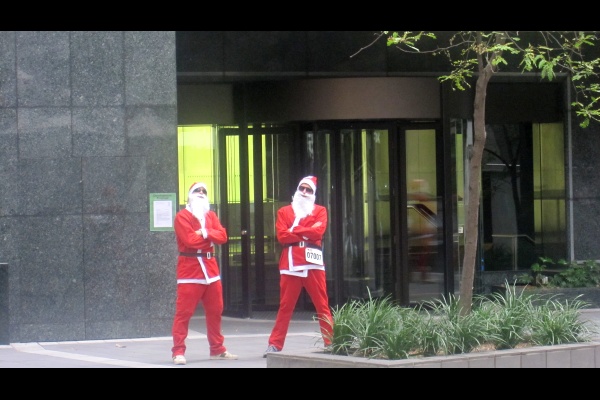 Chris and I outside Macquarie Bank for Variety Santa Fun Run
Luckily we weren't alone in the fun run, there was a few other thousand people doing it –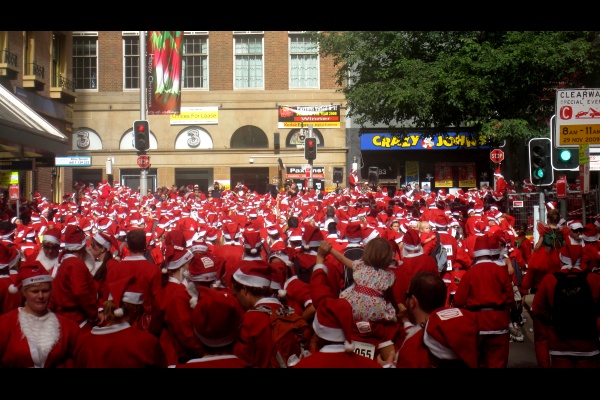 Santa Fun Run through Sydney
After our not so difficult run we headed off to Potts Point where we had breakfast in a little Italian cafe with Marcy and Chris which was very nice. We then returned to Manly, I had a quick surf in some not very good waves and it was off again to Lorraine's BBQ which she had organised on her roof patio. It was a really hot day (luckily we were in the shade for our Santa run for the majority of the time) so it made perfect BBQ whether providing you could get some room under the umbrella –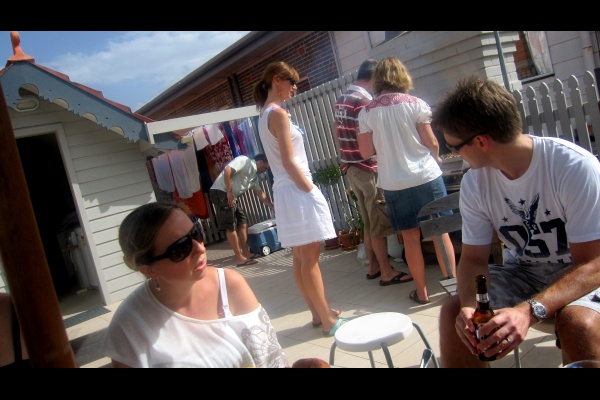 BBQ at Lorraine's Place
Lorraine had made some fantastic sauces and we enjoyed sausages and steaks which were delicious! It was the perfect end to a long and busy weekend!