Bali Shanti Shanti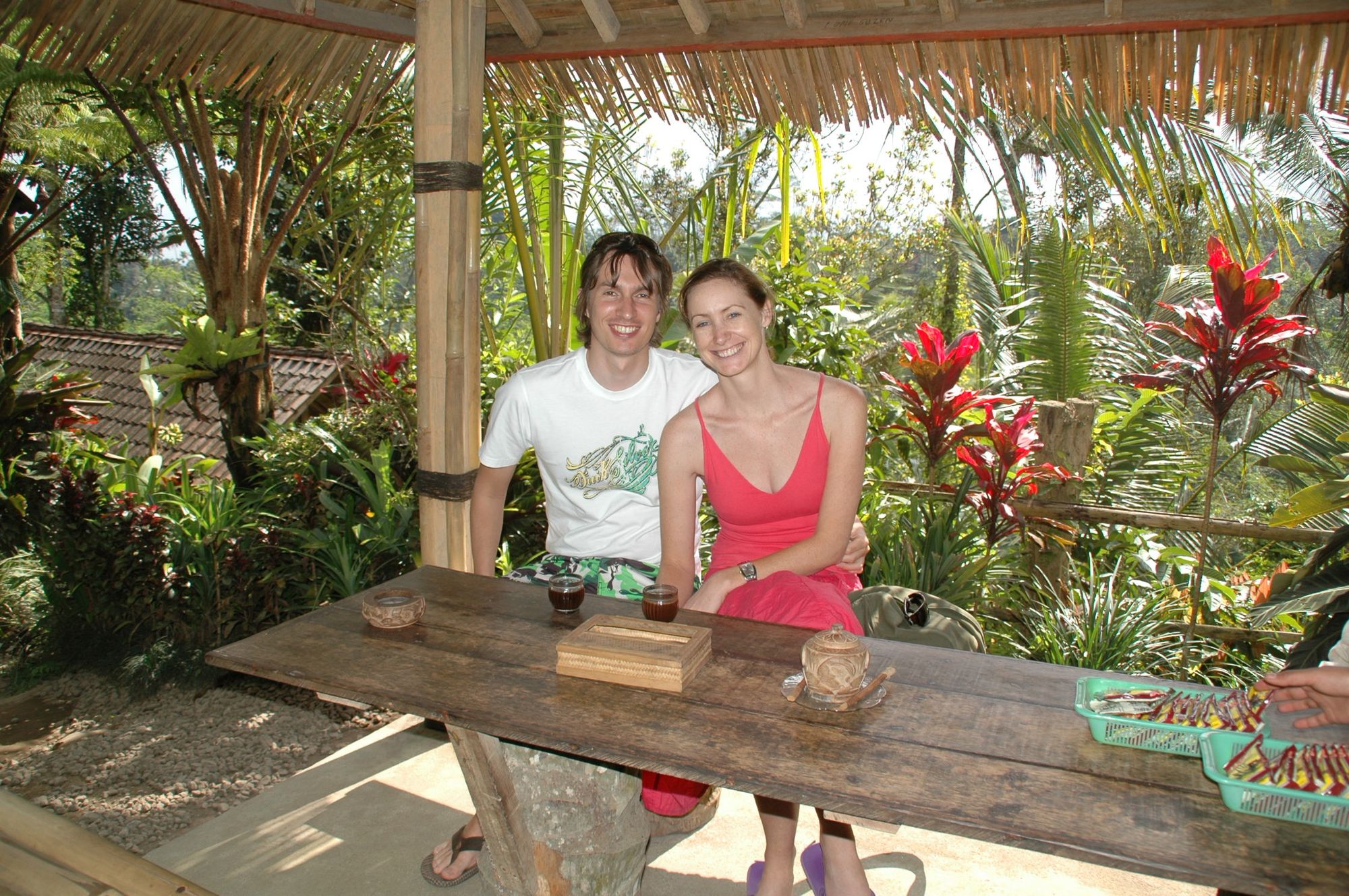 This winter/summer whatever you want to call it, Amy and me went to Bali for our holidays. Bali is a fairly small island which is part of Indonesia. It is really a tourist mecca but not in the bad way that most European holiday destinations suffer from – Kuta is probably the most effected by that with pubs that serve "ozzie grub" and show rugby based games in the evenings but its very localised so not a problem. We stayed in Seminyak, which is up the road from Kuta but much nicer and relaxed. We stayed in a villa, which had a walled garden and a swimming pool which was big enough to actually swim in on the first six days of our holiday (to clarify: we didn't eat so much we couldn't fit in the pool after six days, we just changed hotels).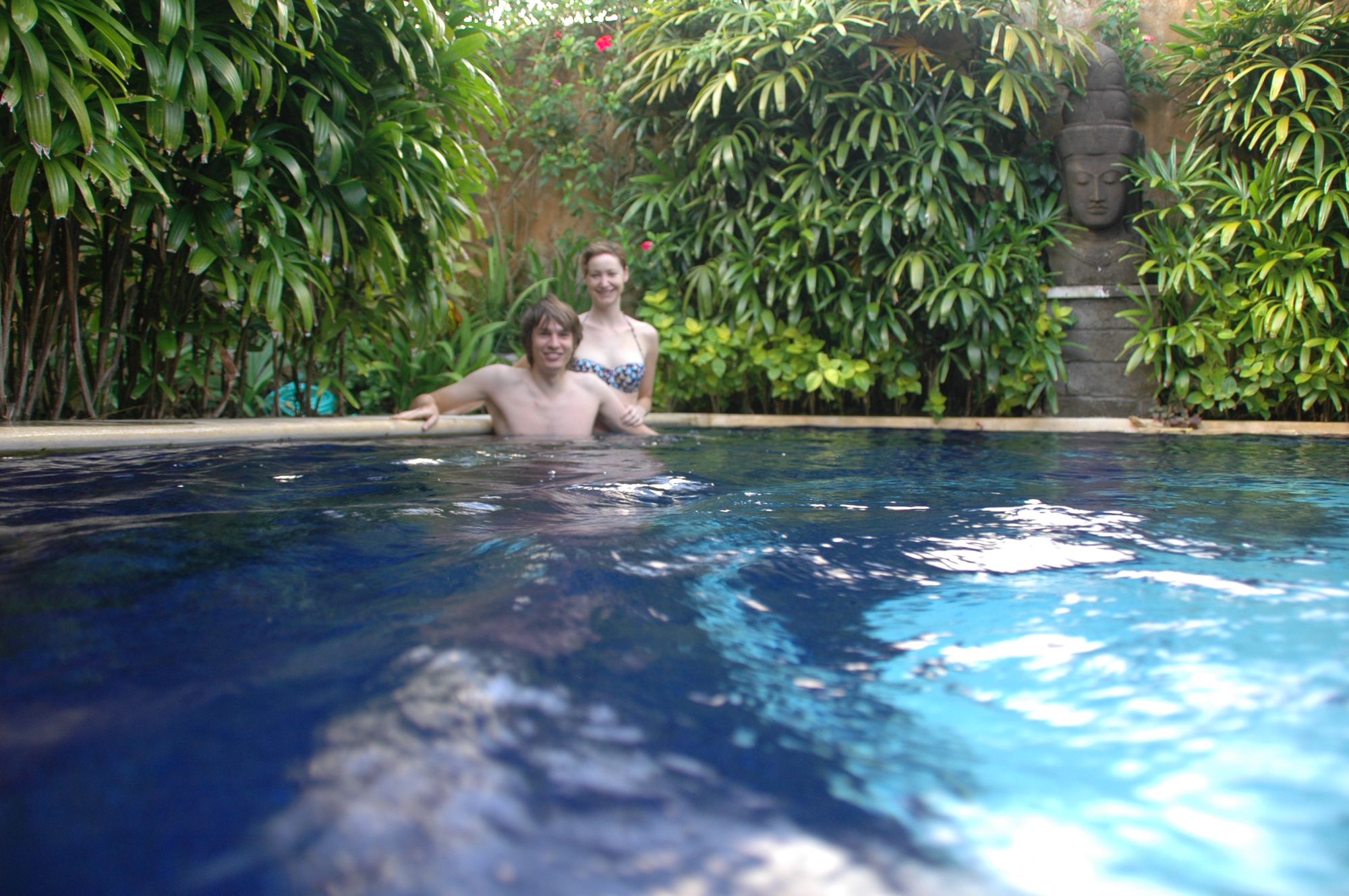 The bestest thing about having the pool in the garden was that the two pool beds were never taken. Whenever we wanted breakfast we picked up the phone and then a couple of villa chefs would come over, cook the breakfast for you. Here's Amy with Chefs from the first day –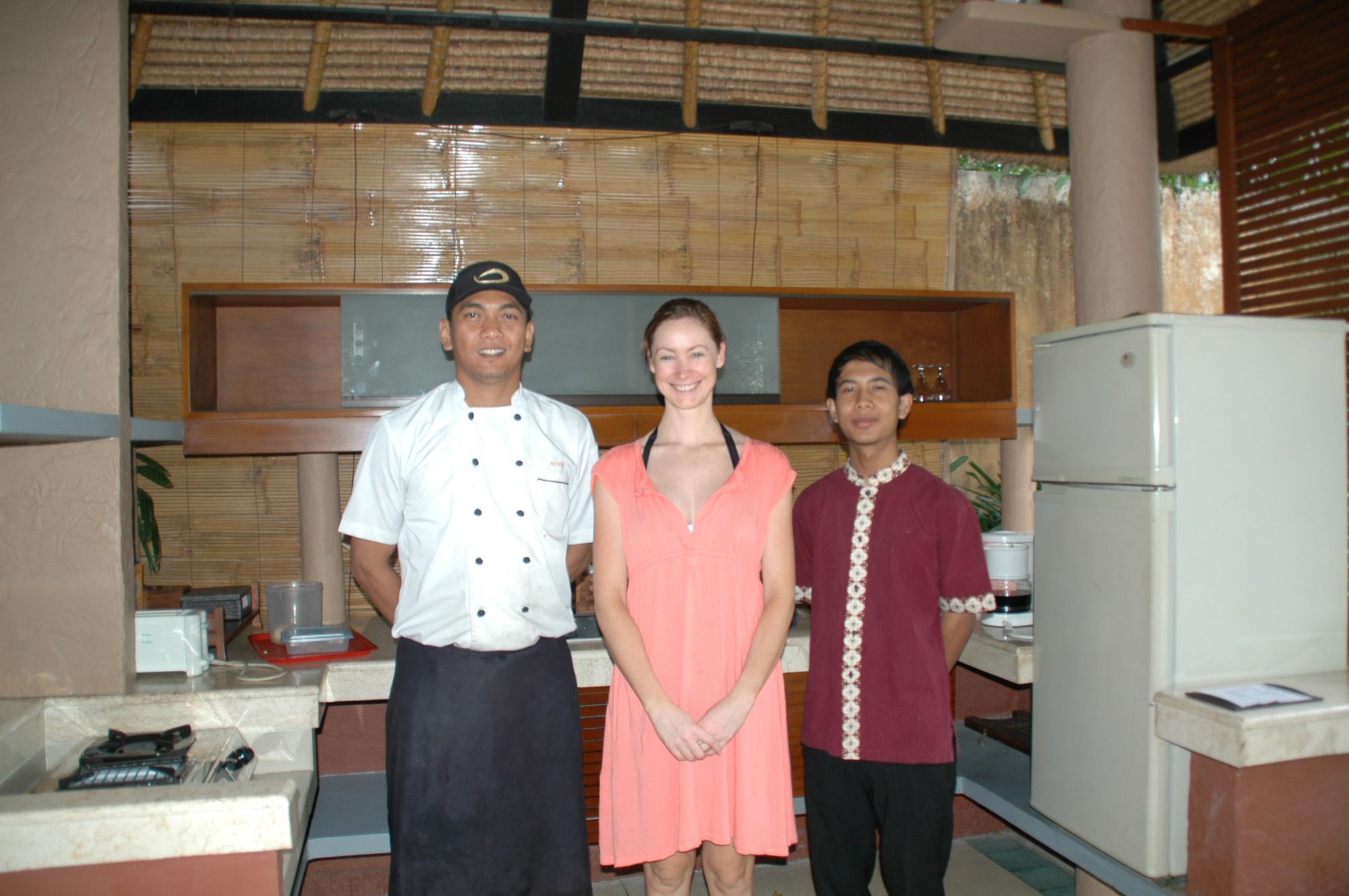 The funny thing with the villa chefs is that the first day its a real novelty and you watch there every move in delight as they prepare the breakfast meals. After about 4 days of it you start to take it for granted and get a slight superiority complexity – we sooned dropped that after some women complaining at the front desk about a kite that was flying nearby being far too loud and if "something could be done about it".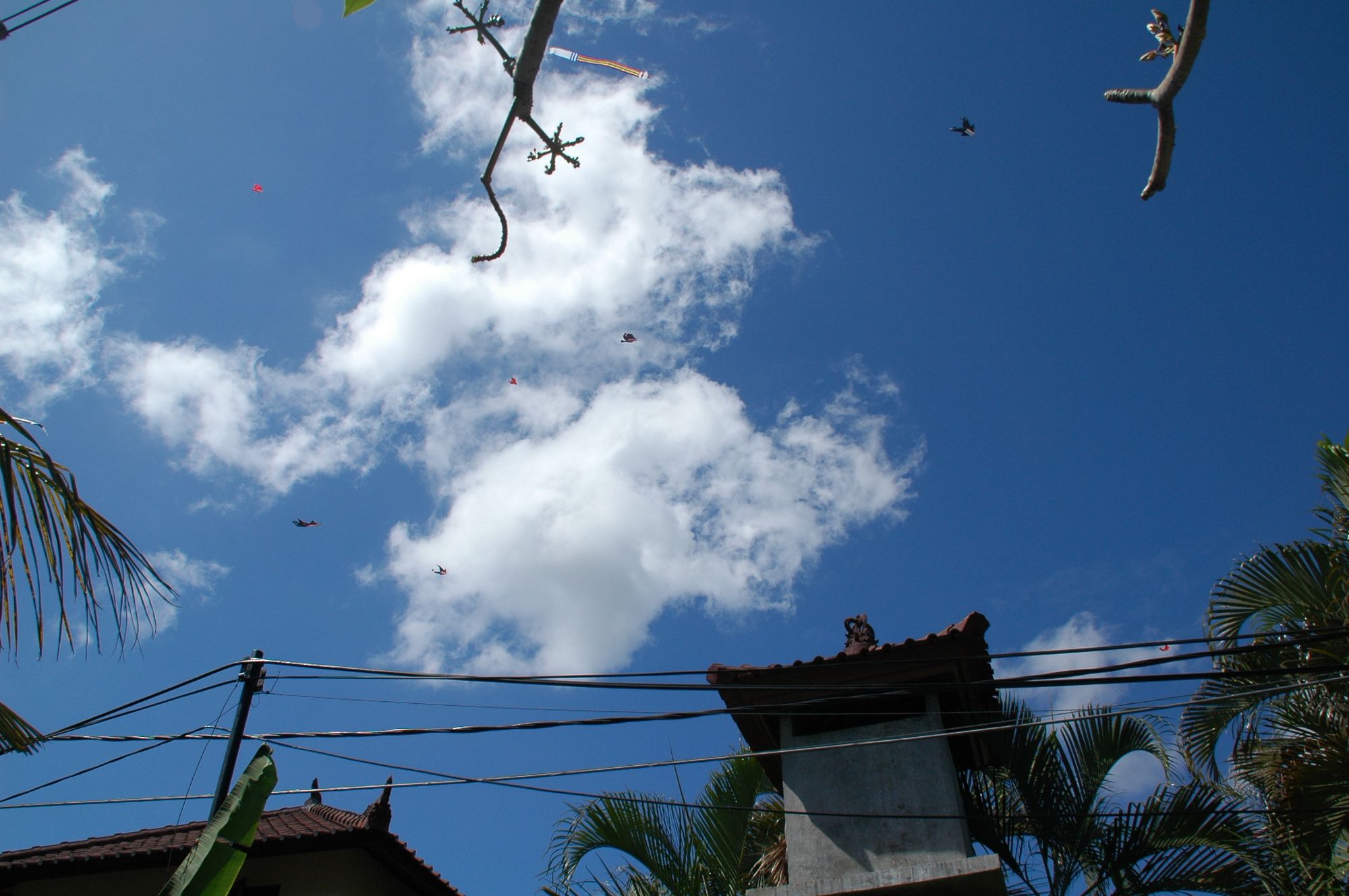 The Bali Kite Festival is an annual affair. The ATSB, FAA and CAA would go crazy if this happened anywhere else, it basically makes most of Bali unsafe to fly low as some of these kites got very high!
Our first day we headed into Kuta to see what all the fuss was about. Kuta is the main tourist town in Bali and has two starbucks. Being a man of the world our first stop was to get a ice caffe latte from starbucks. If there's anyway to judge a country its by any suttle differences in a globalized coffee chain. Safe to say we left starbucks on first name basis with all the staff in there (seriously) and got recommendations on where to go in Bali. The people in Bali are probably the friendliest bunch I've ever met, even the hawkers with there sunglasses suitcases and various pieces of junk they try to sell are friendly after you tell them "no thanks" or "tiida marakachi" which is Balinese for the same thing.
One of the funniest shops in Bali are the DVD Hypermarkets. These places are like the Virgin Megastore of pirated videos. Every video was a copy and even films like the latest Batman, which isn't even out in Australia was for sale (no doubt filmed from a seat in the cinema). Loads of tourists in these shops with shopping baskets full of illegal DVDs no doubt helping to fund terrorism. Talking of Terrorism, Bali tourism is still recovering from the 2002 and 2005 bombings (the 2002 accused are potentially about to be executed) – Indonesia and Bali is on the FCO's and Australia's "SmartTraveller" "not recommended to visit" list, most drivers we had talked about it telling us they were very happy for us to come etc. the reality is most people are more likely to be killed by the driver crashing whilst he talks to you than in an actual terrorism related bombing.
On one of the days Amy and I got a driver, Mr Harry, recommended to us by Marcy and Chris – we didn't really have a plan of where to go but that was ok as Mr Harry just took us all over the place. One of the places he took us was the elephant sanctuary, where we had a ride on an elephant called Phoebe. The "driver" of the elephant told us he (yes the elephant is a he and is called Phoebe) is from Sumatra and is on loan by the government and gets retired at 30 to breed. The driver/minder also told us he has to get up every 2 hours in the night to feed the elephant and that he has been with him since birth. That is a tough job!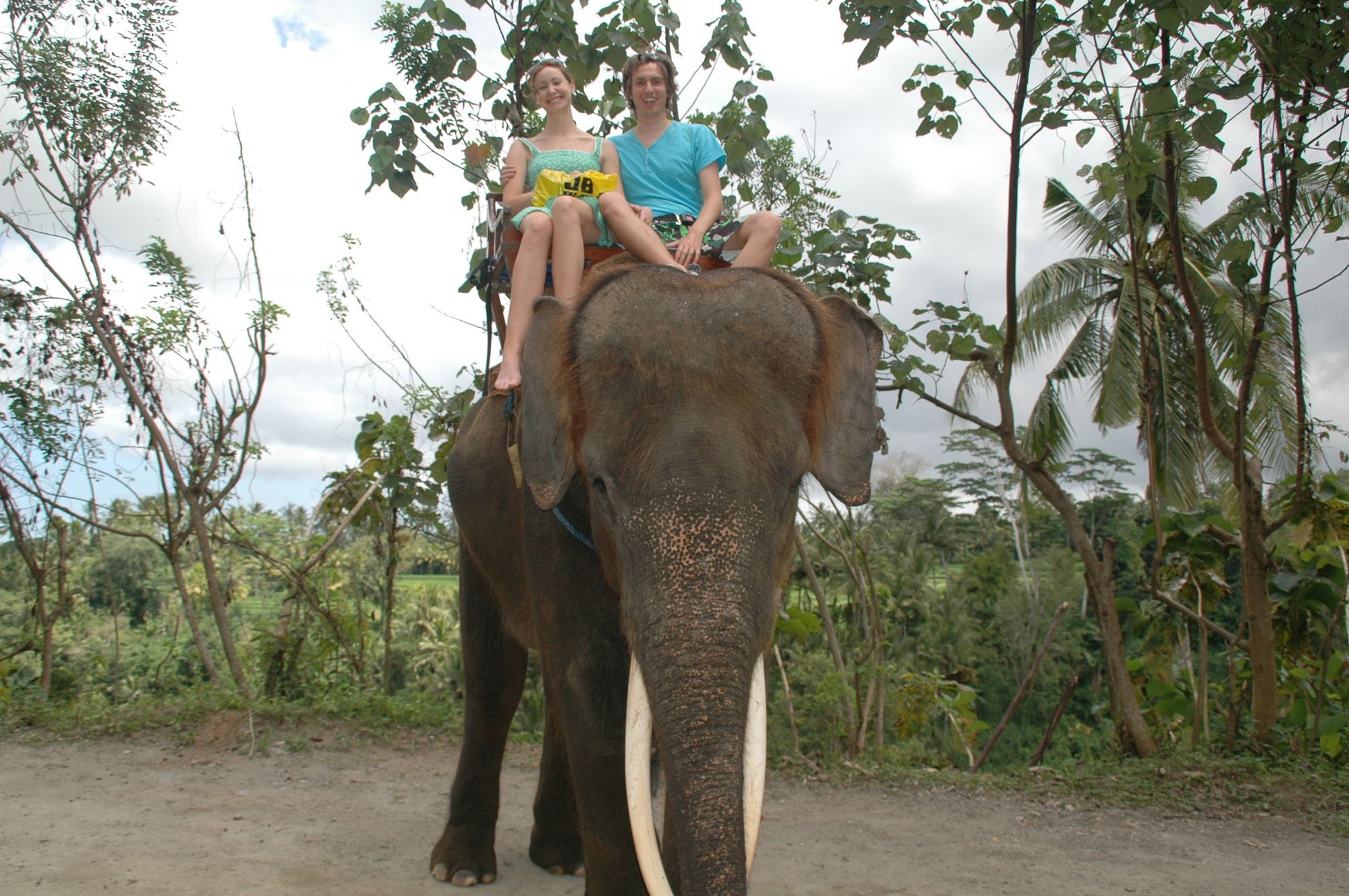 Afterwards we went to Monkey Forest, which was as it name suggests, a forest full of monkeys. Mr Harry told us we should buy some bannanas to feed the monkeys as they were "friendly". I had a monkey fully climbing on my face at one point which didn't hurt but wasn't exactly the safest I'd felt in a while. We'd managed to avoid "Bali Belly" up to then and I didn't want to catch some disease from our second closest ancestors. Amy got off lightly with a bit of skirt pulling –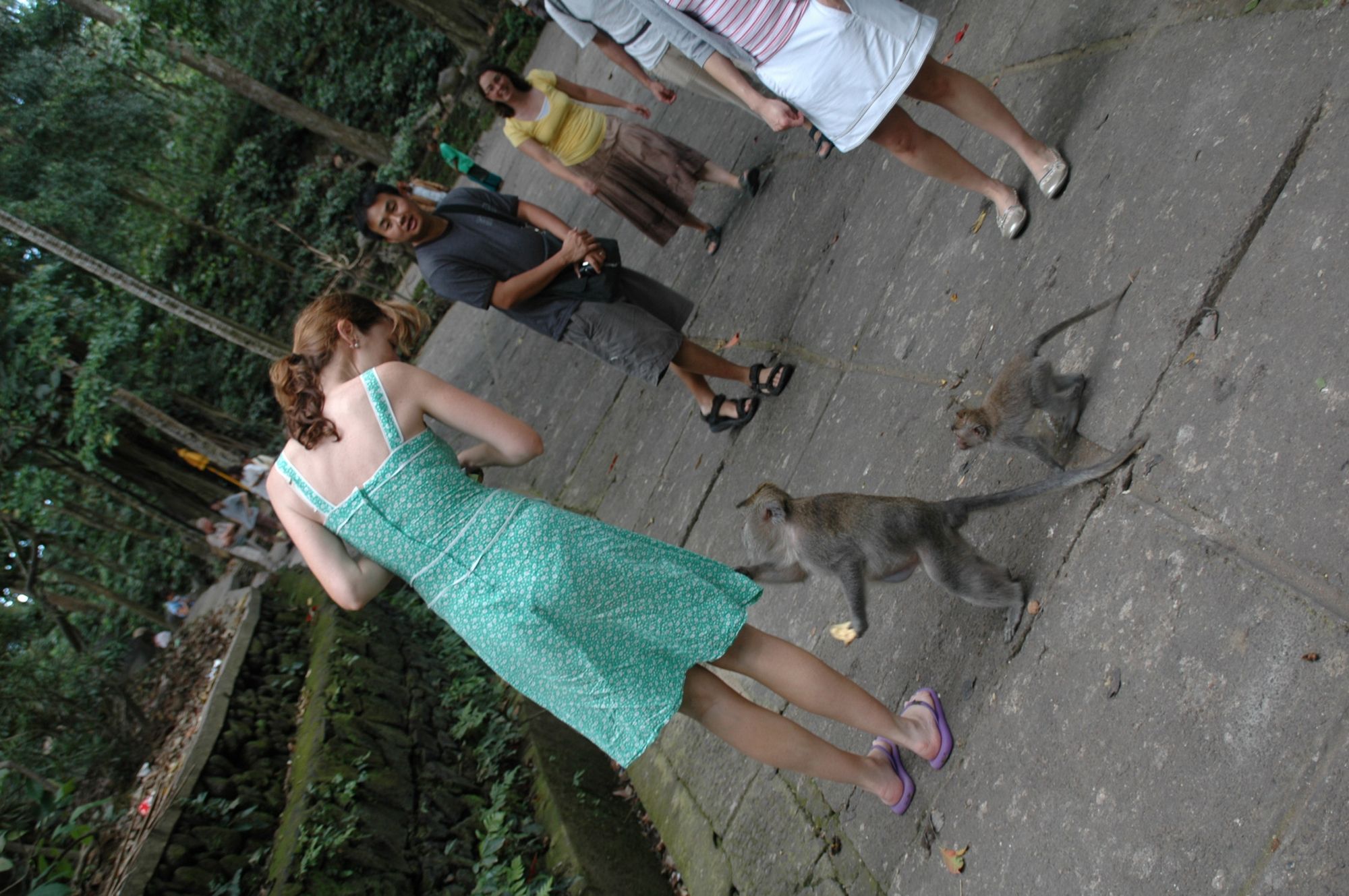 Mr Harry also took us to a few tourist shops with stuff we didn't need to buy but that seemed to be the same with all drivers. After the elephant tour we went to Uluwatu, via Dreamland. I wanted to see Dreamland for its marvellous beach and surf. I had read on Aquabumps that it recently had been ruined by overdevelopment and it wasn't wrong –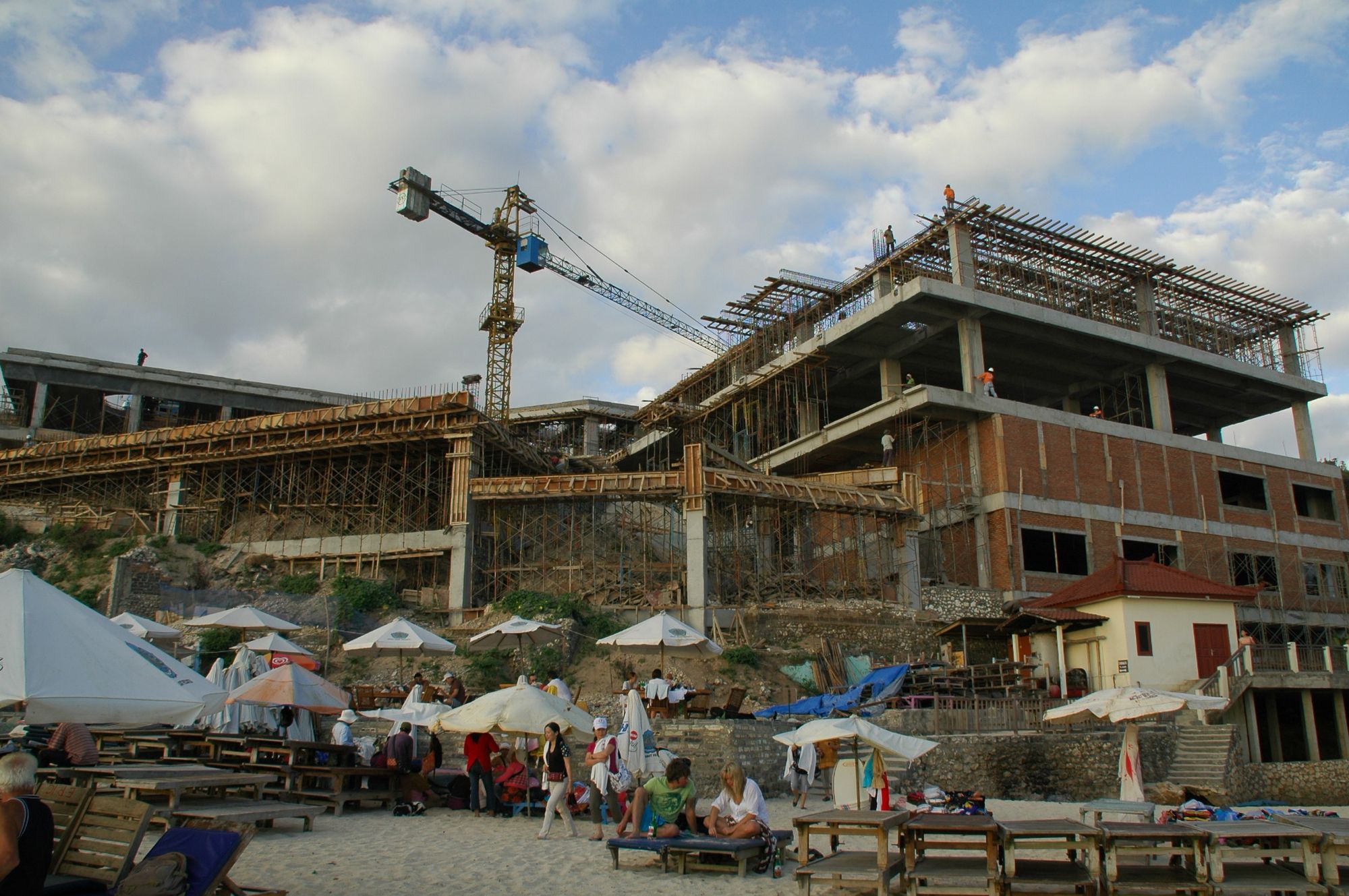 The only good thing about that building was that when you looked out to see you couldn't see it – and what a beach that was –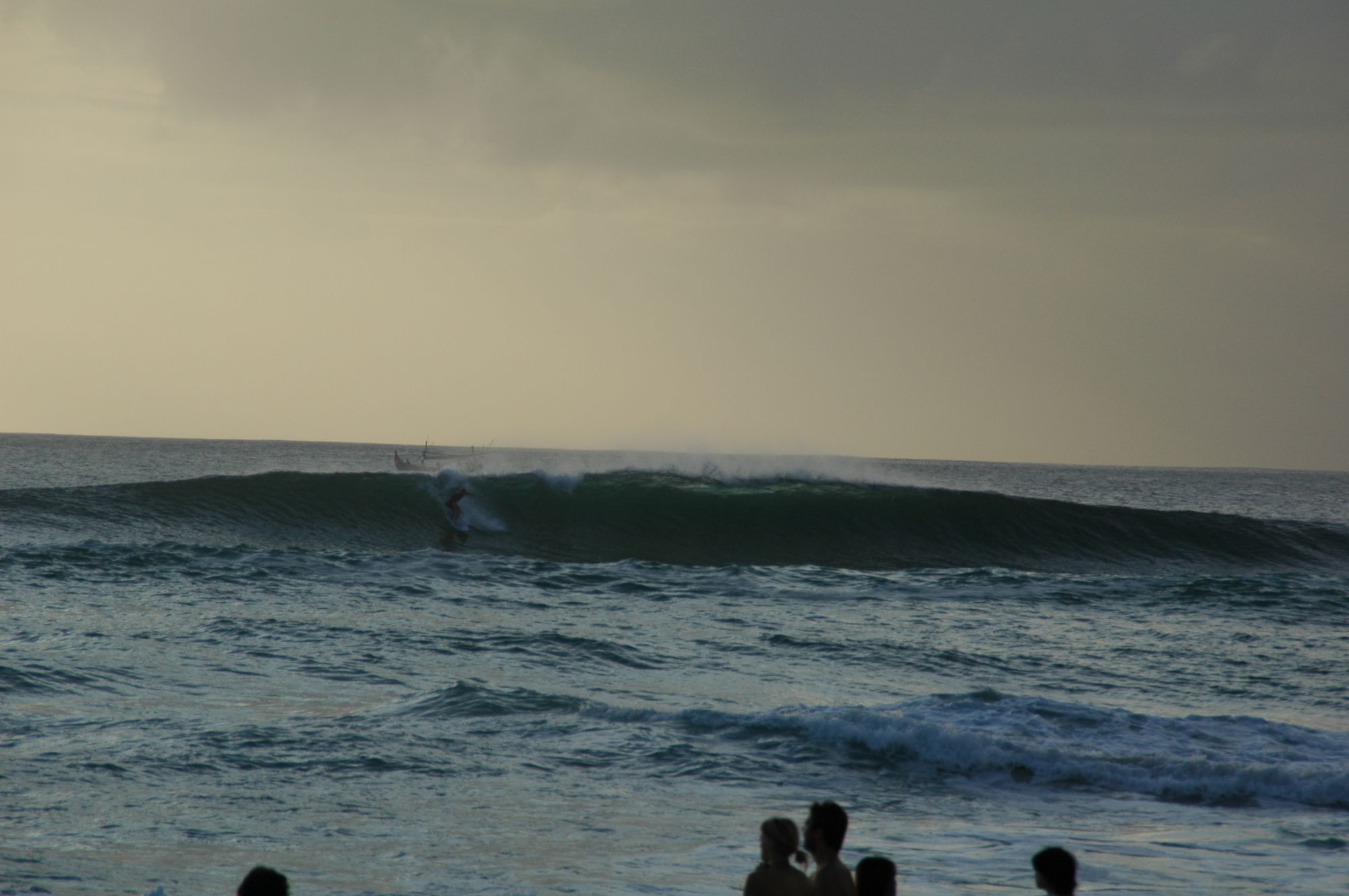 The surf in Bali was relentless, I never actually got out as there was some serious waves. You look at to sea and it looks flat then 10 seconds later there are some 6-8ft bombs rolling in so a little bit unpredictable.
After that night we went to Pura Luhur Uluwatu which is a temple that had a show in the evening with traditional Bali music and people dressed as monkeys kicking straw on fire about, it was fantastic. In the evenings a few nights we met up with Amy's work collegue and wife who were also over there at the same time for a few drinks at KU DE TA in Seminyak which is on the beach and fanstatic. We also went to Sarong restaurant which was one of my favourite food nights as it was delicious and we drank good champagne. For my birthday we went to a bar on the sixth floor of a building next door to the Sofitel in Seminyak, at six floors high it was one of the tallest buildings in Seminyak and had fantastic views of the surf, it was a great night!
The second part of our holiday was in Ubud, which was inland. We stayed at a resort called Maya which was huge and had swimming, golf and tennis. We played golf and Amy beat me. A lot of the time in Ubud was spent going around all the little shops which mostly all sell the same thing but every now and then there would be a few gems and a few t-shirts could be picked up for as little as $5 each. Amy was in her element at the market –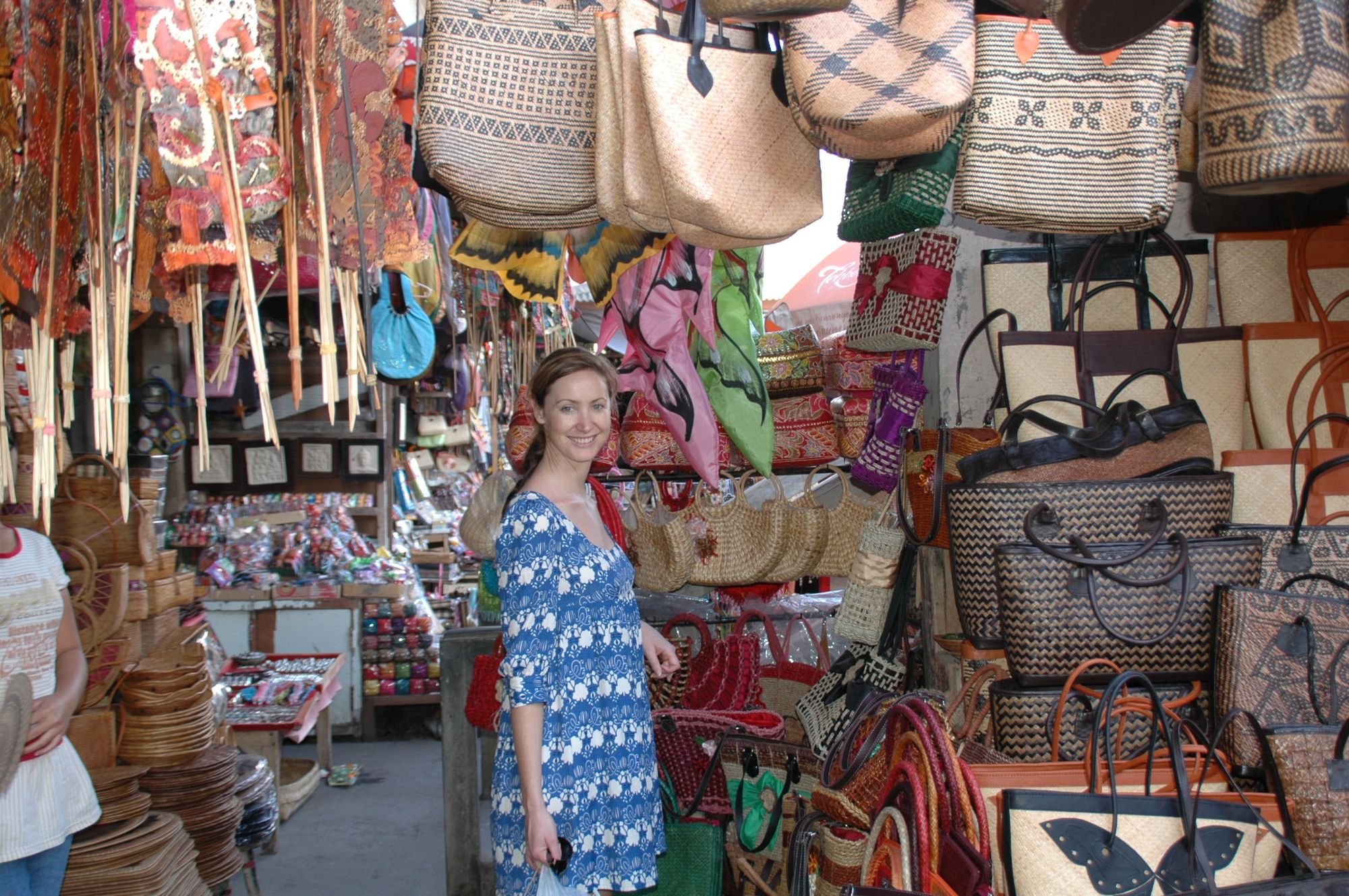 Bali has a few volcanoes and I'd never seen one before so we took that opportunity to go and visit one. We got a great driver who took us (via some art and wood shops) to Mount Batur which is an active volcano at the centre of two concentric calderas – you can see the wall of the caldera on the picture below as the sort of cliff that surrounds the volcano and the lake on the right hand side. It looked absolutely fantastic, probably one of the best views I've ever seen, the pictures don't really do it justice, you have to be there but here it is anyway –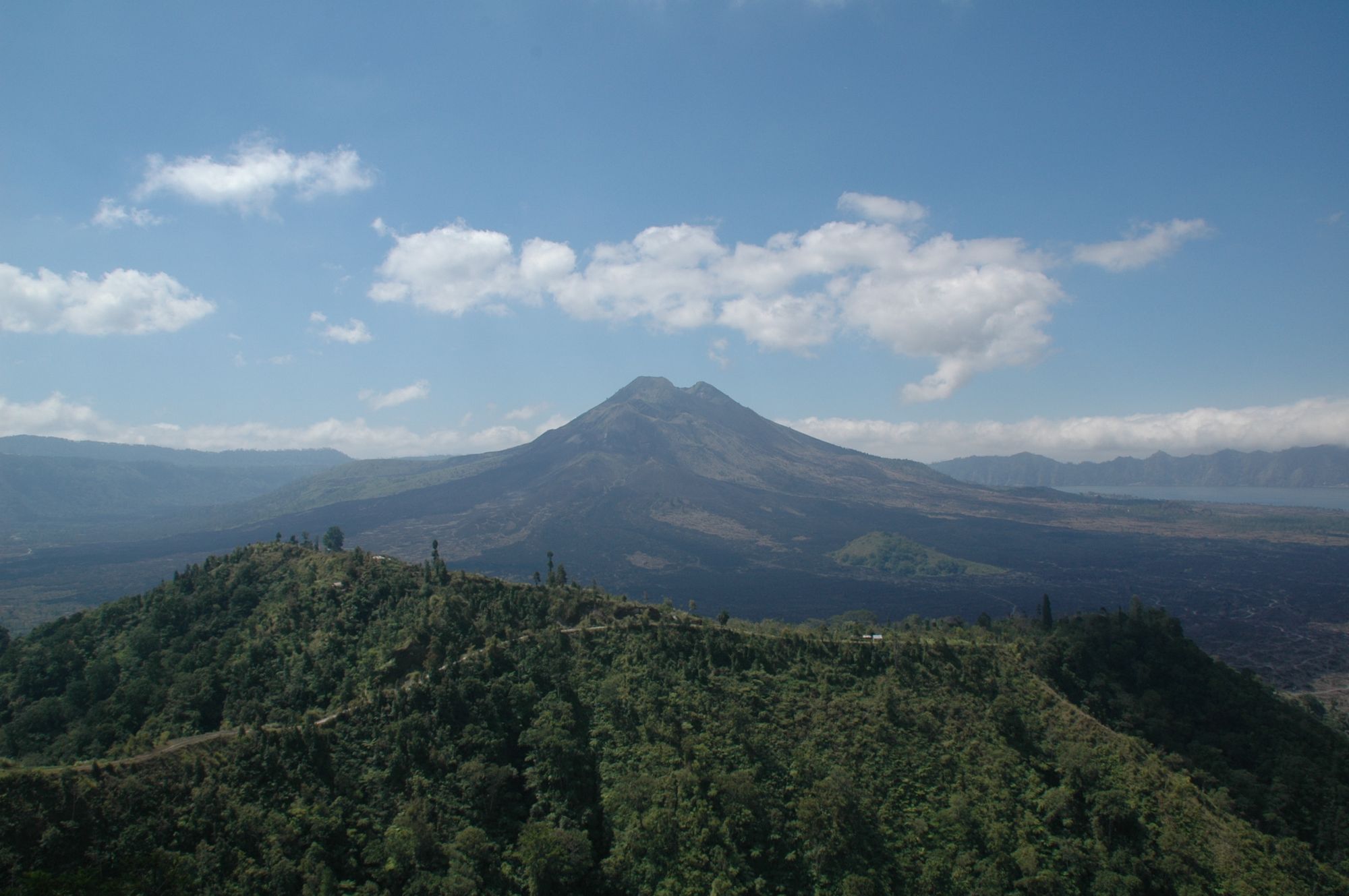 Bali is mostly Hindu which means we visited a lot of temples and had to wear little robes when we got to them which was fun.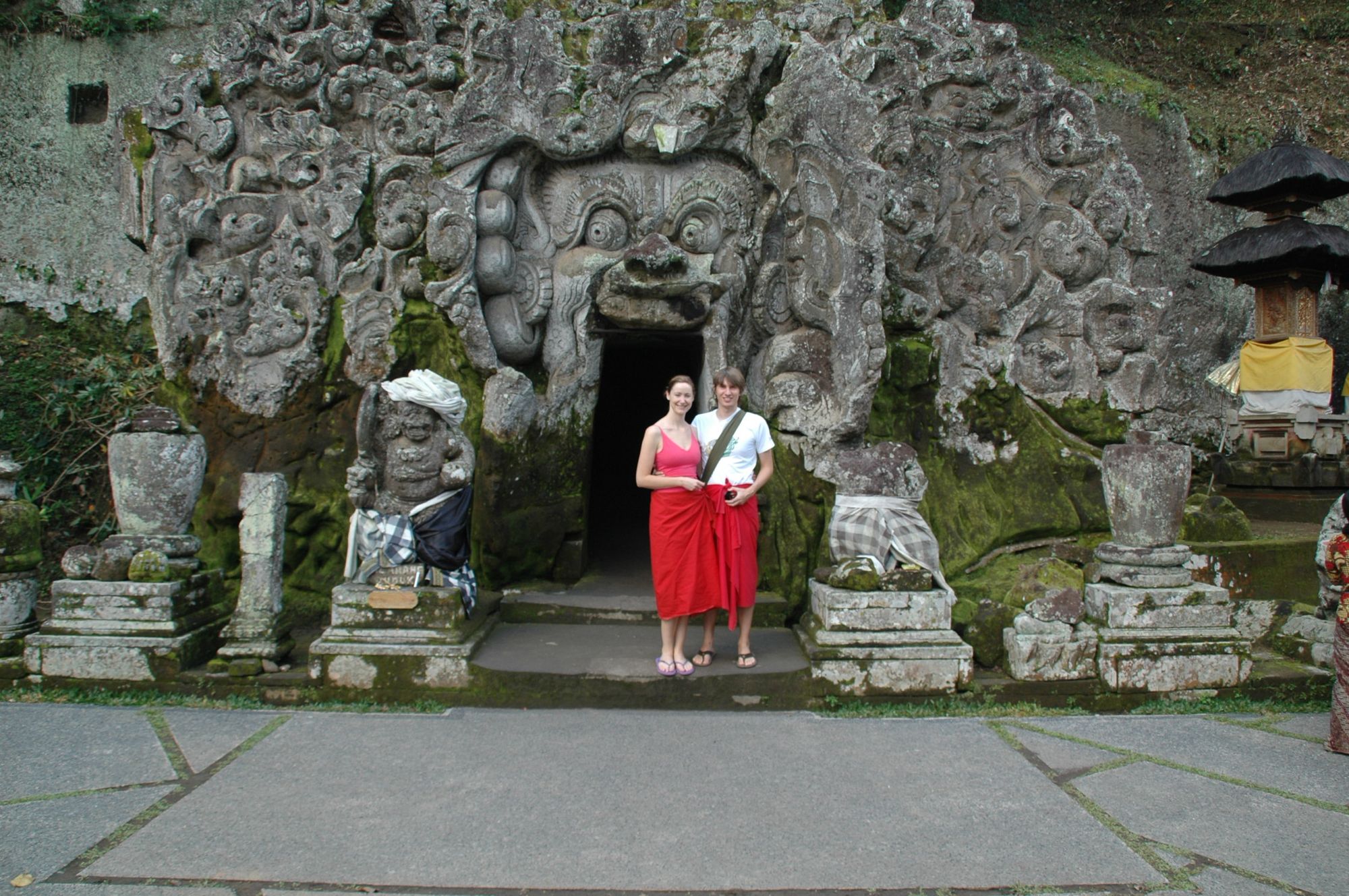 My favourite photo that will remind me of Bali is the one below, an old lady working in a rice field who although probably has a very hard life is as happy as all the rest of the people in Bali are –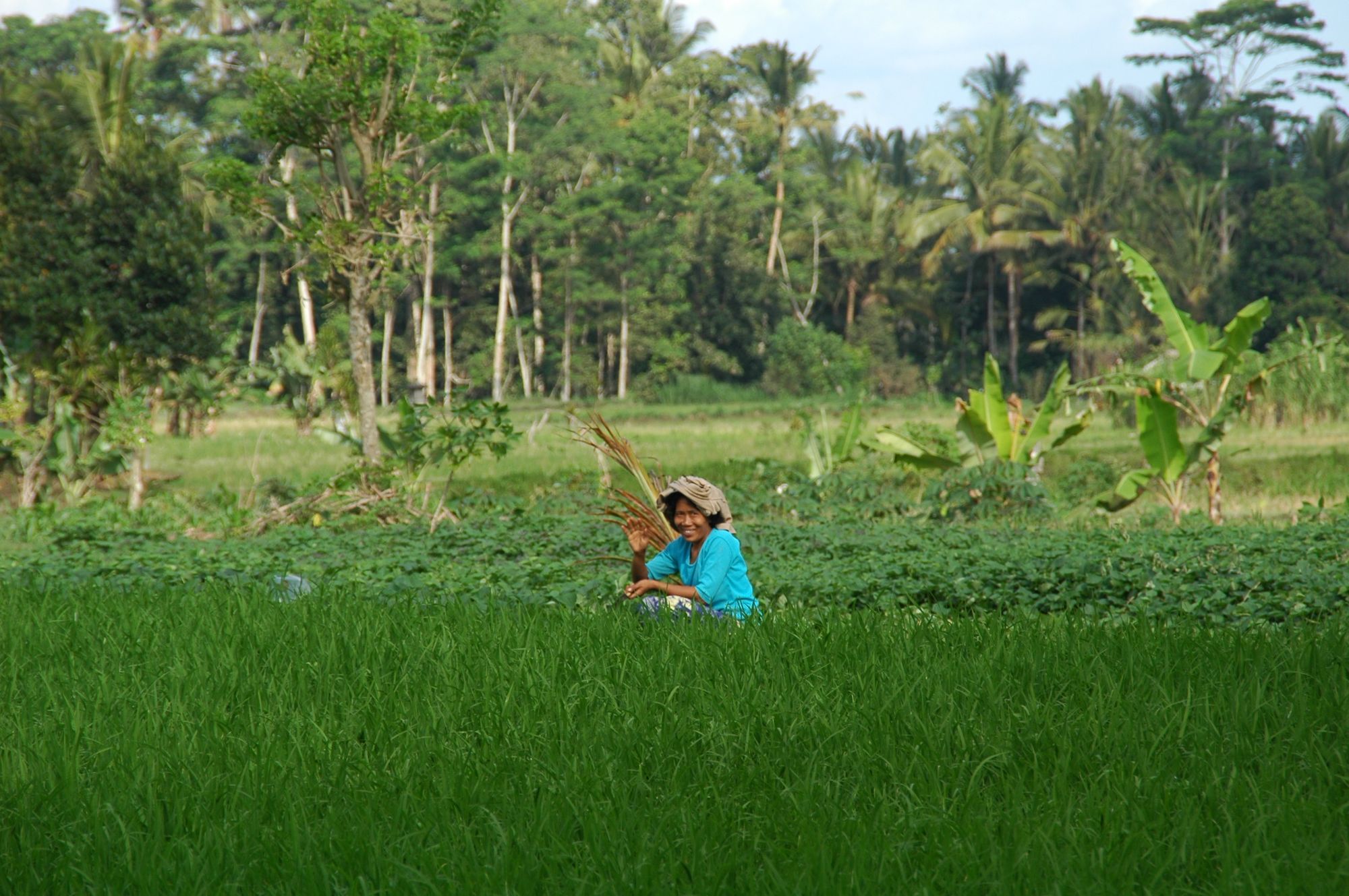 If you ever get the chance to go to Bali I really recommend it. It rained for a total of 3 minutes for the 10 days we were there. The temperature was a consistent 30 degrees C every day which isn't too hot and isn't too cold. Everything is cheap (taxi costs $2 to go anywhere locally) the food is good (we didn't get "Bali Belly") and the people are super friendly. It also has fantastic surf for the brave and you can do anything you want (relax on the beach, relax at the pool, go shopping in Seminyak, visit a Volcano, ride a Elephant etc..) and the fact that it is so cheap means that the credit card bill doesn't mean 3 months of poverty when you get home. Which is really good news because the car won't start, the rego is due, the insurance is due and the video camera is broken.
We will definetly go back providing the words peak and oil aren't used in the same sentence in news and financial circles in the next few years.