July 28th, 2015
At the end of the summer Amy organised a trip for us all to go to a place called Vomo in Fiji. Fiji is a convenient 4.5 hour flight from Sydney so it's an awesome overseas adventure without having to really go very far.
The flight was very easy and Oscar was totally taken aback by the Fijian people. He was quiet and just took everything in as we walked through the airport and onto the domestic airport. The coolest bit was rather than doing a boat transfer we decided to get the helicopter transfer instead. It took us 10 minutes to get from the airport to the resort rather than having to wait for the boat!
Eating is one of the main things that went down at Vomo! The restaurant always had different food each day so you could really try something different. It was excellent and no washing up to do! Oscar really got into saying Bula! to everyone he walked past and they would happily shout Bula! back at him (which is Hello in Fijian I think).
The island was a bit of paradise and you could almost walk around the entire thing. Here's Amy enjoying the calm side of the Island out of the wind. It was also lovely and warm which made up for the coldness of Sydney.
Oscar is absent from some of the photos as there was a fantastic kids club – where Fijian ladies looked after all of the youngsters for set periods of the day and kept them occupied it was fantastic!
Every now and then a sea plane would come and land outside of our Buree – we'd all site in the hammocks and watch them take off again and do a fly by of the Island as they left!
In the evenings Amy and I would go to the other end of the Island for cocktails and watch the sun set below "mini-Vomo" Island. Here's Amy taking a photo of it. You can't see but our of shot we'd be on our 2nd cocktail of the evening!
In front of the Island was a reef that was very calm, although every now and then a small wave would break in it – to keep myself occupied one day after breakfast I got a SUP from the sports centre and tried paddling into the waves. It worked really well and was super fun a few other tried to join me! The day after I tried doing the same thing but on a kayak – I fell out on one of the waves and hit my leg on the reef. It bled for a little bit but then it was fine. However it got worse and worse and I couldn't walk after a day or two – I had to stay in the Buree for 3 days without leaving which was a shame and a waste of the holiday – poor Amy and Oscar had to do things on their own.
It got so bad that when we left I had to be carried onto the helicopter and into a wheelchair and then board the plane on a wheelchair and then basically drive straight to Manly Hospital, where I spent three days and had to have an operation to get the puss out of my knee. Then about two months of visits to a nurse to get the wound dressed and three months of side effects from the super strong anti-biotics!

Nightmare end to the holiday but a great start if only it had lasted!
March 23rd, 2012
Last weekend Amy, Marcy, Chris and I went to Fiji. Which sounds a bit crazy, it's not really the sort of place you'd expect to go for a weekend. We went for a long weekend and managed to squeeze in surfing (SUP), pool time, restaurants, hire cars, boat tours, snorkelling on reefs, standing on our own tiny island and visiting the island where "Castaway" was filmed. We came back tired but it was worth it!
Hotel Beachside
We left on Friday and got the early flight to Nadi from Sydney, the flight is about 4 hours, we went straight to the hotel which was on the mainland and enjoyed the pool there and then had dinner at the hotels restaurant which was really nice.
Chris, Marcy, Amy and me with our Fiji water in Fiji
The next day we decided would be relax day, and so we had a late breakfast and then spent most of the time in the hotel just totally relaxing. The weather was fantastic for our entire trip and was so much hotter than Sydney already, at about 31 degrees the entire time. I walked down to the sea thinking I'd go in, but I saw a snake in the water and decided not to.
Cocktails on Castaway!
We looked at organising a boat trip the next day but couldn't decide which one to get as they all left at different times and Amy and I didn't want to visit anywhere that we'd already been to last time. We left it in the capable hands of Chris who came back after much discussion with the concierge and managed to get us our own boat for four hours the next day.
The next morning we had to hire a car (we got a little car which had bad boy alloys) to get us to Port Denaru which is where all of the boats leave from. The driving in Fiji is on the left hand side but the roads are pretty bad, at one point there was a 4WD just driving towards us on the wrong side of the road, as the driver didn't want to go on the dirty part of the road! We got there safely and onto our little boat tour.
The first spot the boat took us to was a little reef that had a 3 metre by 2 metre bit of sand above sea level, it was cool standing on that, our own little island in the middle of the sea. We snorkelled around the reef for a bit and I've never seen so many fish in the same location, to the point where I couldn't just look at one because there was so many swimming in front of my eyes at the same time!
I'm ready to snorkel everyone else is waving
Next stop was the Island that the movie Castaway was filmed. We shouted Wilson! a few times and the boat driver showed us some of the sites from the movie. Chris re-enacted the fishing scene and I sent an email (I had 5 bars and GPRS) – not sure why Tom Hanks took so long to get off the island, it's surrounded by resorts (not actually on the Island though).
Monuriki (Cast Away) – if you look you can see Amy, Chris and I
We went back via a resort with the same name had a cocktail and then returned to the mainland and visited Hard Rock Cafe Fiji, which had exactly the same food as every other Hard Rock Cafe in the world but was good fun. We then did the drive back to the hotel which was extremely tiring. Marcy, Chris and Amy managed to get sunburnt on the boat and were feeling it when we got back, I luckily managed to avoid it!
The next day we sat by the pool and then made our way back to the airport arriving back on Monday evening and safely home by 9pm. One of the best long weekends ever! Thanks Marcy for the photos.
October 22nd, 2006
Amy and I set off from Sydney on Saturday morning, it was a beautiful 31 degree sunny day in Manly and it felt like we were already on holiday! However, we got the boat to the train to the plane to Fiji for a relaxing island beach holiday that you see on those adverts on the London Underground ( but for a bit less of the price as its just around the corner from 'stralia ).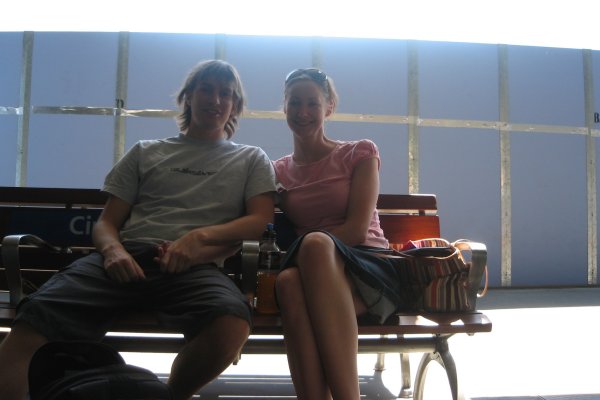 Amy and I at the Train Station, ready for our holiday!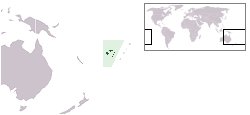 Where is Fiji?
On the plane over we made friends with the Fijian people in front of us, which was good and bad because there young son decided to play games with me and cover my TV screen every 5 minutes. We then played a game called "phone trip" where we had to pretend to ring each other and tell each other "have a good trip" but I kept answering the phone and just saying "have a good trip..bye" before he had a chance to speak so he got bored of that game. There was word of another game called "cow and bear" or "Camembert" ( couldn't really understand what he was saying ) but it never got off the ground as it seemed to be far too complicated.
When we arrived at Nadi airport we got a bus to Outrigger, which is a resort on the Coral Coast which is 177.4° East of Greenwich, London ( 180° is the exact opposite side of the world obviously ). We didn't get there until night time so we did not see much of it and we were out again at 6am to go to Musket Cove, on Molololaiai Island!
We caught the Mololo cat ferry over to Musket Cove which was a nice little journey, it went past the Island of Tavarua which is American owned resort that controls access to "Cloudbreak" a world famous surf break. I found that all a bit of a con to be honest. An American person "owns" the access to Cloudbreak in Fiji apparently, unless you are staying on Tavarua you don't get to ride the waves!
When we arrived we were given nice little drinks to have and driven around in a little buggy to see the resort. Here is Amy with the drinks –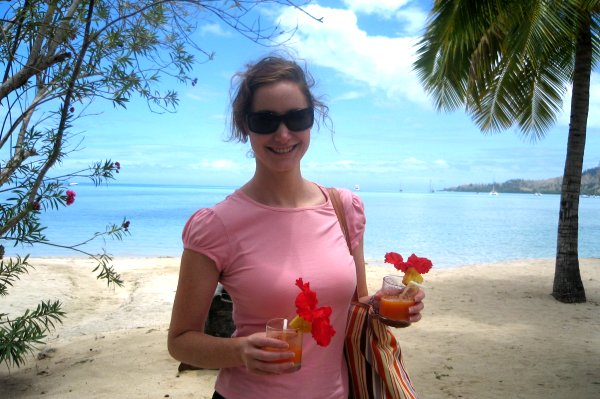 Amy with drinks on arrival!
We then got shown to our Garden Bure, it was very nice and basic. No TV distractions, just a little Radio. Actually by the end of the holiday it was starting to creep us out a little bit because it was so in the wilderness all night long you would hear what sounded like footsteps outside (normally frogs and birds) and things falling on the roof (coconuts and black pods) –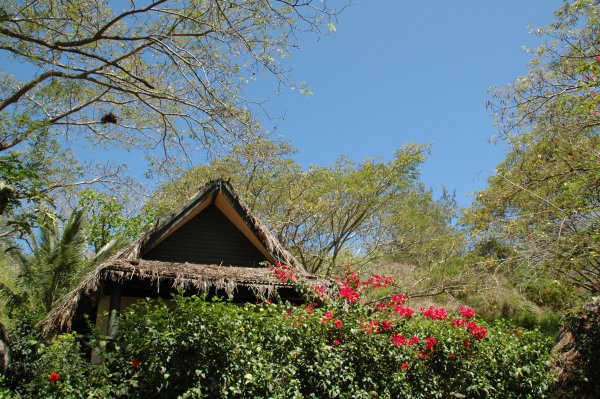 Our Bure
We had lunch at the little cafe (the food was all chips etc.. so was not very healthy) and then had a walk down to the beach –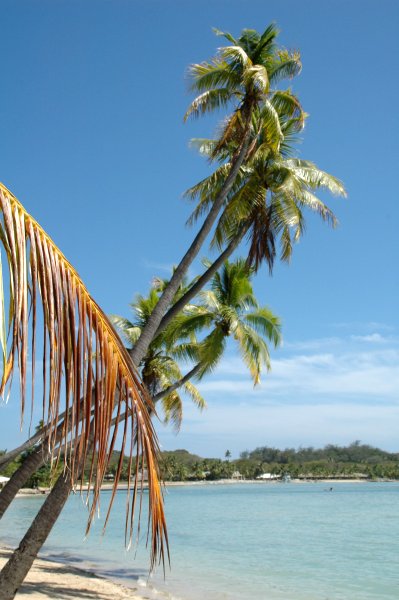 Palm Beach Musket Cove
We had a bit of an error earlier in the day, we told the driver that we were going to Mololo island and not that we were staying at Musket Cove, so our bags went to Mololo Resort, so we had to wait for them before we could go for a swim!
Here is a photo of us sitting in the little hut in the water at dusk –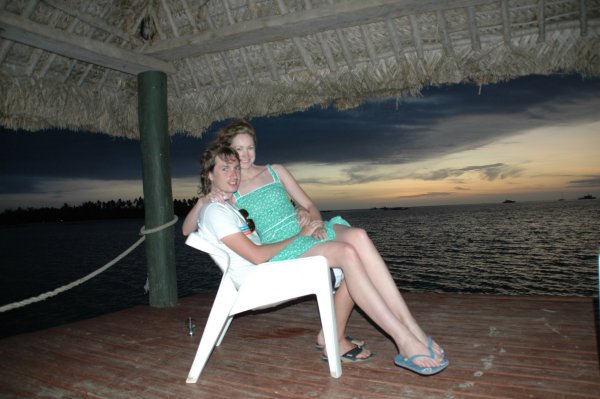 Amy and I at Sunset
That night we went to "Dicks Place" for dinner, which was the Islands foodery and had a lovely dinner, we met some people called Malcom and Brenda from New Zealand who were nice.
The next day our activity was golf. We walked over to the golf course and paid to get the buggy to take us around the nine whole course. It was really hot so we definetly needed transport between holes, plus my 350 yard swing really means a lot of walking between hits (I'm rubbish at golf).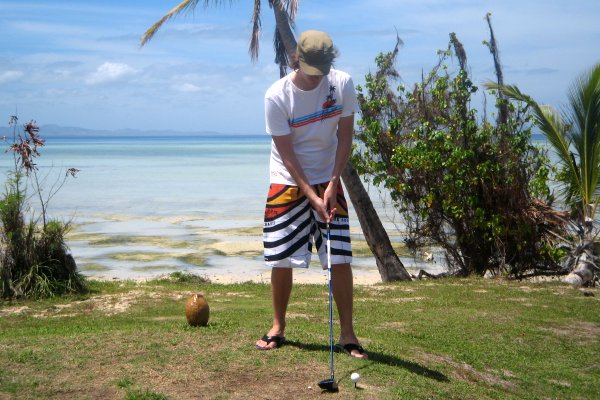 Golf Action
Amy was beating me pretty badly and it was getting very hot, we managed to get to 4 and a half holes before we had to give up, so we just drove the buggy around the course for a while and returned it!
That night we had dinner again and became money savvy (the restaurant on Musket Cove turned out to be the most expensive one of all the islands we visited and not always the best food) so we had a salad starter and the buffet which we shared.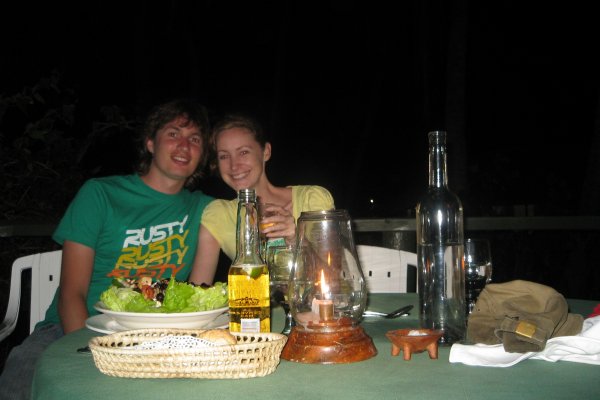 Amy and I having salads at Dick's Place
The next day we hired bikes to explore the Island a little bit more. Although in reality you can't go very far as going up hills was not possible (not allowed and too hot to even attempt) and the native Fijian people don't allow you to just walk around the country without permission from the village chief that you might walk into.
Here's Amy with the strange small hills that cover the Islands of Fiji which I imagine are a result of being a volcanic island –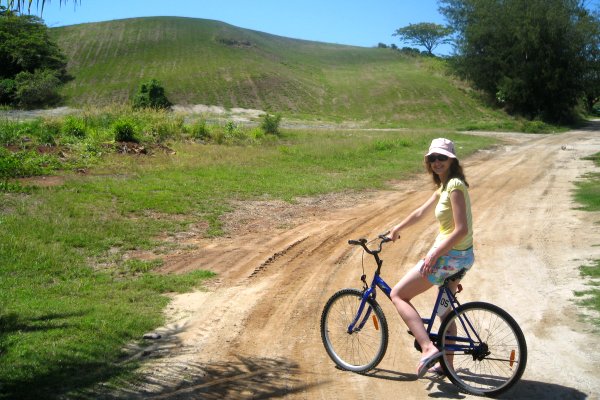 Amy on Bike on Island near Volcanic Hills
That evening we walked down to the beach and got this photo of the sunset –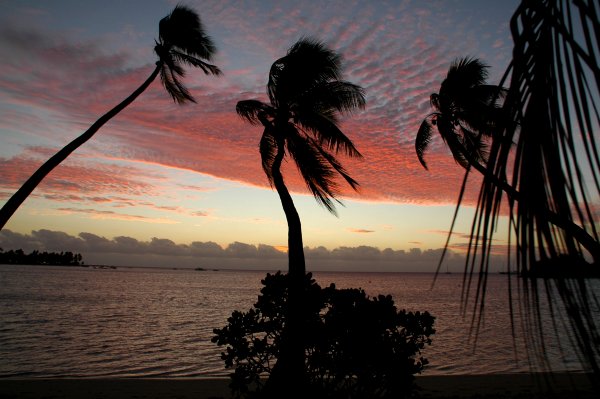 Another Beautiful Sunset in Fiji
The next day we took a boat trip to see some other islands, coincidentally it was the worse weather day, not raining but very very windy. It made the boat journey a real stomach turner, but we got to see some beautiful islands. We even saw a turtle (Amy missed it) swimming in the water, which was pretty amazing, it looked very pre-historic. Some of the Islands we visited were right in the wind so we didn't stay for long, others were not wind facing and so were very beautiful. This was the view down one of them from the water (can't remember the resort name)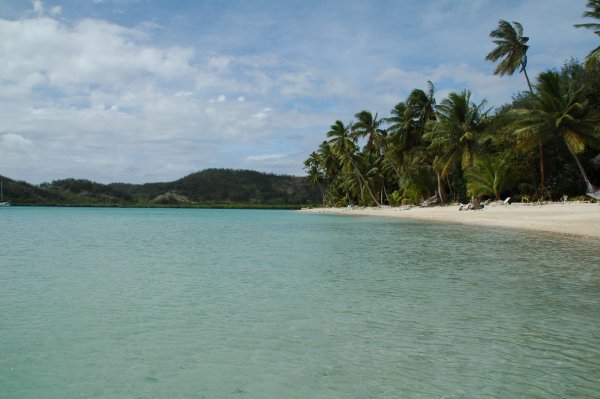 Unknown Resort in Fiji
We also visited Cast Away resort which was also very nice resort and had lunch there. Here is a picture of Amy with the boat driver –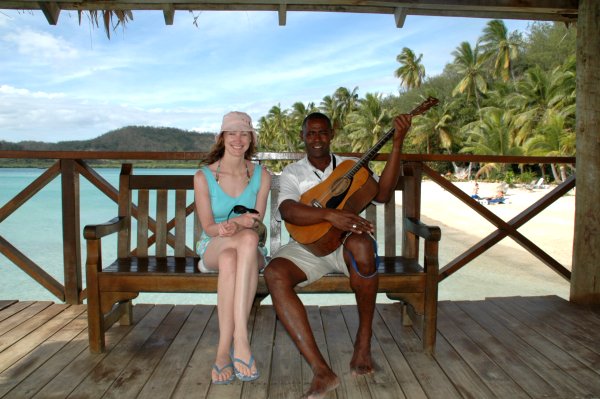 Amy with Fijian Boat Driver
The next day we got Kayaks and went for a little paddle out in the water, it was good to be right next to the reef and see all of the fish swimming around, there was even some star fish in the water!
Friday night was pig on a spit night which Amy was really looking forward to!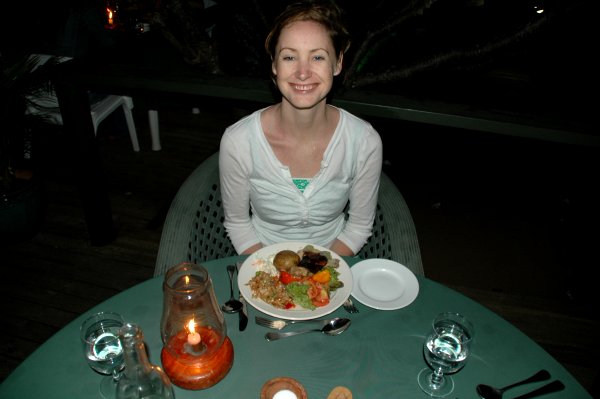 Cheshire Cat Happy Amy
The entertainment that night was some Fijian dancing by men and women. It was really funny to watch, it was a bit like organised chaos.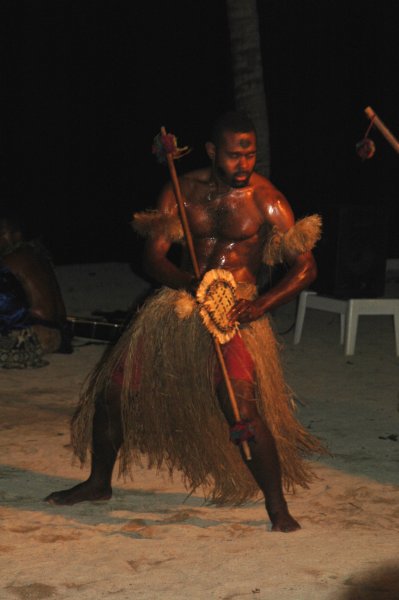 Fiji Warrior!
That day our Musket Cove island holiday came to a close, which was very sad as we were enjoying it so much! Fiji has a high Indo-Fijian people descended from work force brought to the Island during Britains colonial rule (the coins and notes have the Queen on them) and it was Diwali eve so all Indo-Fijian women were dressed in traditional India clothes. Here is Nadi down town as we headed back to Outrigger resort –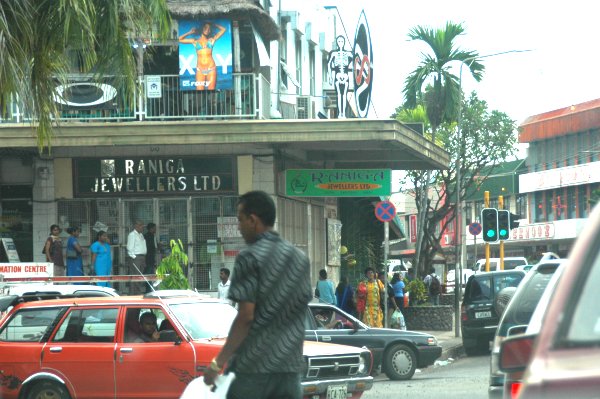 Nadi Downtown on Diwali Eve
It is amazing to think of the changes that Fiji must have gone through in recent times with the start of long distance holidays and the ability for ordinary people to sail to remote places.
When we arrived at Outrigger we were just in time for sunset, which was beautiful –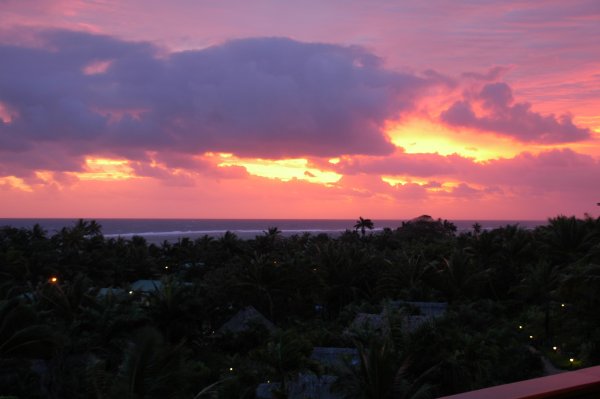 Sunset at Outrigger
The next morning it was a 5am start off to the airport for the flight back to Sydney, where we arrived to cold weather and gloomy skies, it is very sad to be back from our paradise holiday!