December 31st, 2009
Best of 2004, 2005, 2006, 2007, 2008 and now 2009!.
Yes the inaugural best of the year post! I've added a new category this year called "restaurant" fun!

Album of the Year – M. Ward Hold Time
Really enjoyed listening to M. Ward this year, feels like I've played his tracks a few thousand times on iTunes. I now also can't remember the last time I bought a record not in digital format.

Checkout this video of Chinese Translation on YouTube.

Cinema Trip of the Year – District 9
I reviewed this film when I first went to see it. I thought it was so good I went to see it again with Amy (who didn't think it was that good).It is an awesome sci-fi movie with a great plot. Let's hope they make a District err.. 10?
DVD of the Year – Gavin and Stacey
This was first leant by Simone and Stu and after initially not thinking it was that good I was totally hooked and now wait for Season 3 of this funny show about a girl from Wales and a guy from Essex. Not really going to work for anyone not from England or Essex!
Book of the Year – The Girl Who Played with Fire


I didn't read any books worth mentioning this year (I don't think I read a book) so this is a guest entry from Amy –

"Having never had an interest in thrillers previously I was shocked to find my eyes glued to every page in this Swedish breakthrough series. This book also appealed to me as it reminded me of my travels to Sweden.
Very well written and fresh."

Thanks Amy. More info about the Millennium Trilogy.

Game of the Year – Modern Warfare 2


Last year's game of the year was Modern Warfare 1, this year Modern Warfare 2 takes the title. MW2 is the biggest selling entertainment item of all time, that is right, bigger than any movie. It's not as amazing as the first, because I kind of knew what to expect but it is still an amazing game with such great attention to detail.

More Info Here
Website of the Year – techmeme.com


Keeping up to date with what is going on in the tech world without being overwhelmed with the amount of information that is out there is a tricky task. Thankfully TechMeme has succeeded something where other news aggregators have failed; putting tech news in one easy to read location.

http://techmeme.com
Technology Purchase of the Year – G25


Matt Bass invited us over for dinner, little did I know he would have a PS3 and an awesome steering wheel to go with it.

So I sold the Nintendo Wii to save some space (as we never really used it much recently) and then filled that space with a G25!

If you like racing cars and you have a good computer I recommend getting this wheel and GTR Evo and Race On for the PC.

Restaurant of the Year – Ping Pong Soho


Amy and I went here a few years back when we were last in London. It is so good that when we visited London again last summer (winter) we hit it up again and we were not disappointed. If I still lived in London I'd go here everyday. Great good and great drinks on a fun menu.

Checkout their site for more locations.
Well that wraps up the Best of 2009 and for this decade! Have a happy new year!!
December 21st, 2009
I was on the Manly Fast Ferry the other day and had the camera. The little Canon camera Amy has does some pretty good quality video. The journey is probably the best tourist trip you can do in Sydney but only costs $6 (non-peak) to do as it's actually just a transportation means to get from Manly to Sydney.
So for everyone in the Christmas snow here's a typical Southern Hemisphere summer day trip from Manly to Sydney Circular Quay on the Manly Fast Ferry at 9h25 –
We are off to Brisvegas for Christmas which should be fun and then on to Copacabana (NSW not RIO) for NY!
December 4th, 2009
We've had so many action packed things happening it has been hard staying on top of the blog entries. So here's a action packed entry with lots of different things happening!
It was Amy's birthday last week and we had a little surprise night away at the Blue Hotel in Sydney as well as dinner at Kingsley's restaurant on Woolloomooloo Wharf.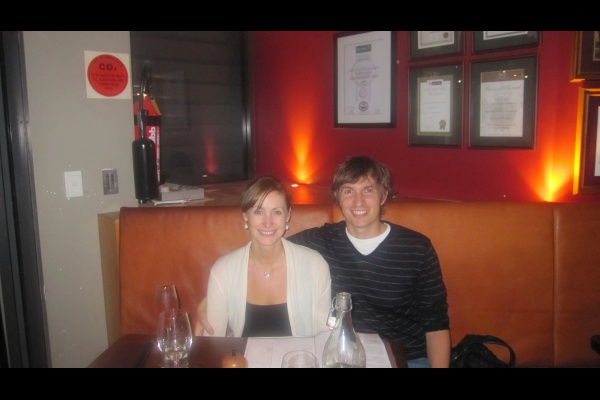 Amy's Birthday and Kingleys
We stayed in a little cabin two level loft and we could walk to the city in the morning which was nice and made a change from getting the ferry across. Although I made a video of the ferry journey which I hope to edit into something to put on the blog however I'm back logged with video processing at the moment.
A couple of nights later and one of Marcy and Chris' friends had somehow managed to persuade Bavarian Beer Cafe (a German restaurant) in Bondi to not only allow about 40+ people book out half the restaurant but also serve them a totally different meal which included Turkey and cranberry sauce to celebrate USA Thanksgiving.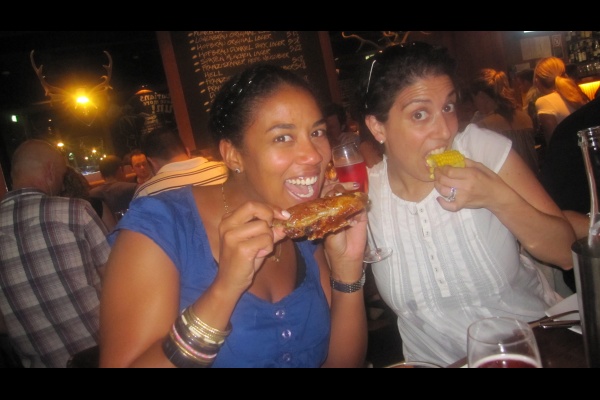 Sue and Marcy enjoying Thanksgiving at the Bavarian in Bondi
It was really good fun and was just like Christmas dinner but a  few months early and a bit of Sauerkraut thrown in to mix things up!
Next up was Amy's Birthday which she organised for us all to White Water restaurant in Manly, it was good fun and a good turn out, good to see Hugo could make it as well as Simone and Stu before they jetted off around the world on their Honey Moon –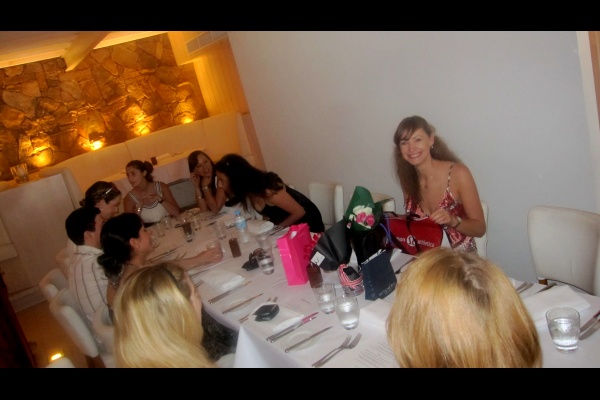 Amy at White Water with her friends
It was a good fun night, Amy got really drunk and was dancing around Coles the super market for a bit which was pretty funny. We had a few drinks in Shore Club which is a popular 18-25 hang out, we saw some funny fashions and then decided to go to Mortar and Pestle for some Thai dinner before going home, it was a big night, especially considering the next morning we had to get up at 6am to go into Sydney, dress as Santa and then run from the bottom on George Street to Darling Harbour!!
Lucky the run turned out to be more of a walk and it was seriously fun. Here's Chris and me outside Macquarie Bank looking like we're going to rob the place –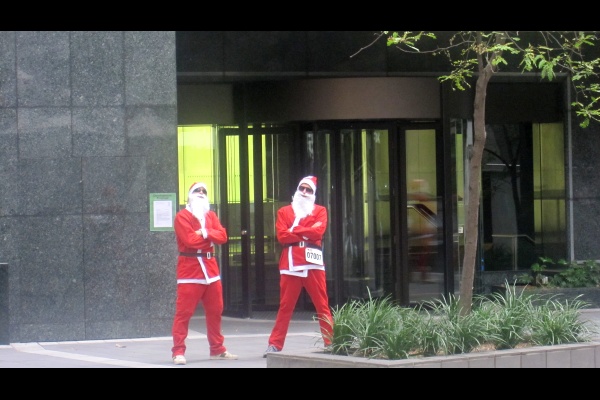 Chris and I outside Macquarie Bank for Variety Santa Fun Run
Luckily we weren't alone in the fun run, there was a few other thousand people doing it –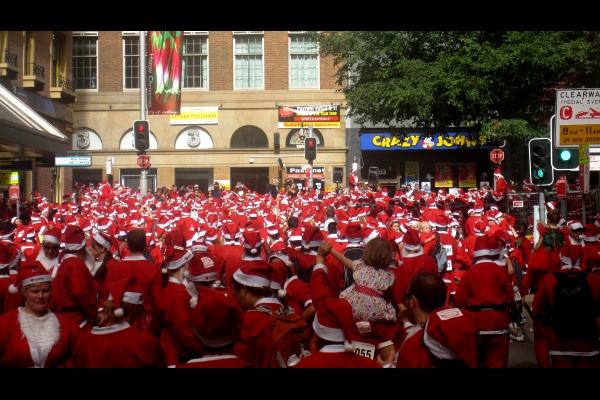 Santa Fun Run through Sydney
After our not so difficult run we headed off to Potts Point where we had breakfast in a little Italian cafe with Marcy and Chris which was very nice. We then returned to Manly, I had a quick surf in some not very good waves and it was off again to Lorraine's BBQ which she had organised on her roof patio. It was a really hot day (luckily we were in the shade for our Santa run for the majority of the time) so it made perfect BBQ whether providing you could get some room under the umbrella –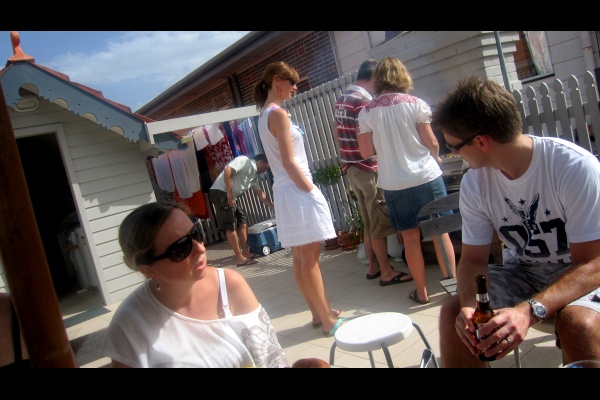 BBQ at Lorraine's Place
Lorraine had made some fantastic sauces and we enjoyed sausages and steaks which were delicious! It was the perfect end to a long and busy weekend!