October 25th, 2009
For Marcy and Chris' Australian Wedding we had a game of Slosh Ball in Centennial Park. Slosh Ball is the same as Kick Ball which we've been playing for a while now thanks to being introduced to the game from the USA.
Slosh ball is slightly different in that a new rule is you have to have half a glass of liquid (preferably beer) in your hand at all times, which makes catching the ball (the idea of the game to get someone out) a lot more difficult.
You should also wear appropriate footwear at all times something that Amy, Lucy, Leisa and myself didn't do. Here's Lucy kicking the ball and loosing a shoe at exactly the same time –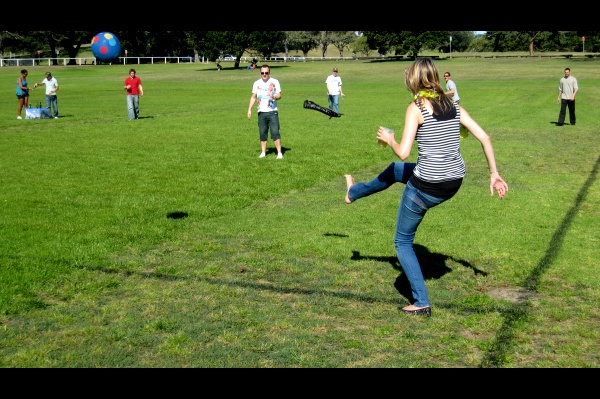 Lucy Kicking the Ball and Loosing a Shoe at the Same Time
At lunchtime we had a picnic and enjoyed ourselves as much as we could before kickoff for the second part of sloshball.
Here's the wedding party themselves with their special his and hers sloshball cups –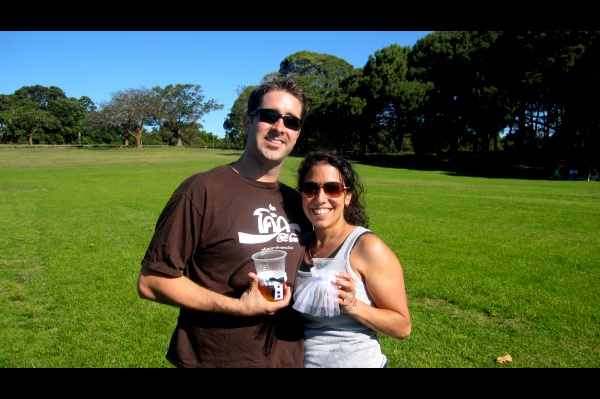 The bride and groom (not in that order)
We finished the day with more sloshball and some chilling out on the rugs. It was an extremely good fun day!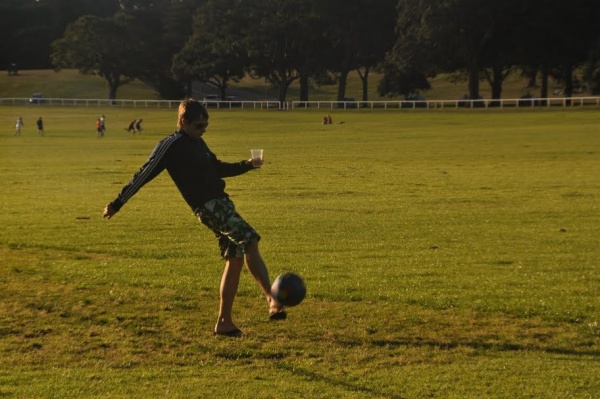 Me in Sloshball Action
On a separate note Amy went to Perth for work last week, I have not been there but if this photo is anything to go by I certainly won't be driving when I get there –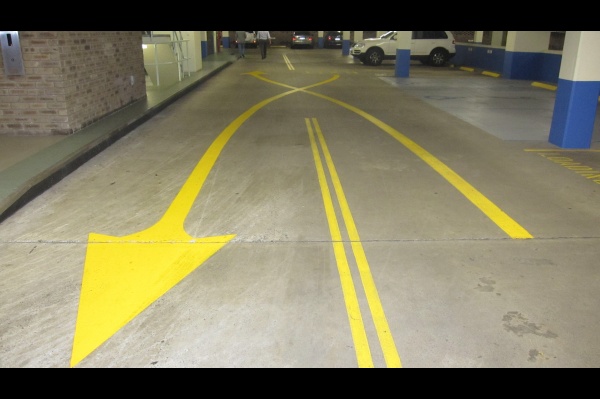 Can't believe this got signed off by the building manager
Until next time!
October 11th, 2009
Last week Amy and I set off with Marcy and Chris for a long trip up to Queensland which would eventually end at Simone and Stuart's wedding in Byron Bay. Taryn and Wade were kind enough to let us stay at their new house which was very nice, Chris even had a go in the pool and said it was refreshing.
We also celebrated Amy's dads birthday and Chris' 30th with a get together at the house as well as the not so secret santa draw which took place. Amy took us all on a trip around Brisbane, visiting Mount Coot-tha via Toowong, Indooroopilly mall (no I'm not making these places up) and taking the river cat down to the South Bank which looks almost identical to the London South Bank. We were also lucky enough that the Brisbane festival was on at the Westend.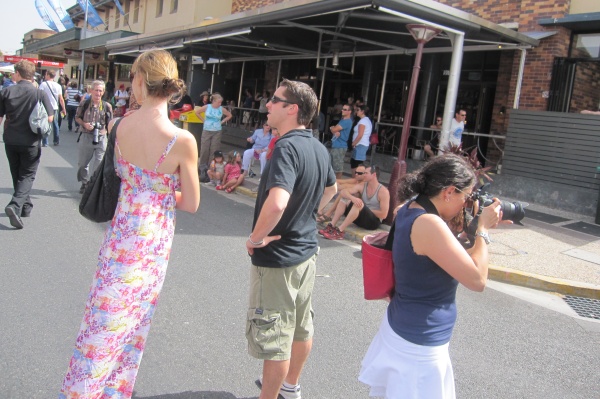 Amy, Chris and Marcy at West End Brisbane Festival
Here's everyone celebrating Mr Wild's birthday and Chris' 30th Birthday at the Casa del Trassa residence –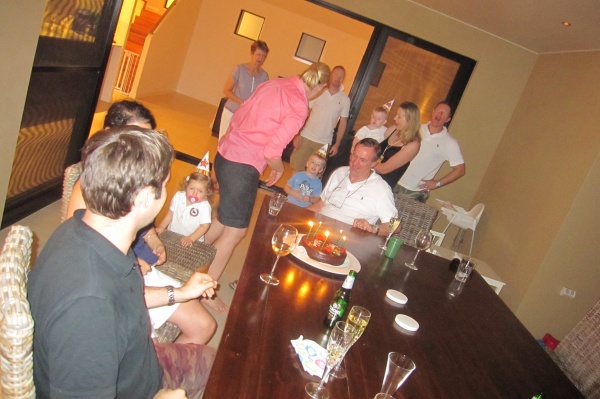 Birthday Cake Celebration
After our trip to Brisbane we set off down to Byron, we stayed at The Byron in Byron for one night with Marcy and Chris, it was a fantastic retreat just out of town which reminded me of a mashup of Fiji and Bali. We went into town and had dinner at Orient Express and did some trivia questions such as what is the second smallest country in the world.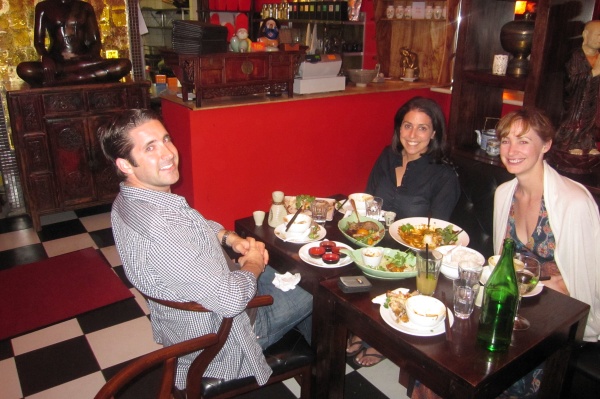 Dinner at the Orient Express in Byron Bay
The next day we had to say goodbye to Marcy and Chris and move on to Simone and Stu's wedding. We were staying on location for the wedding at a place called Blue Water at Belongil Beach, about 1km outside of Byron but still in the bay. The location was beautiful but suffering the consequences of coastal erosion, as the garden had apparently got a little bit shorter after some storms earlier this year.

Belongil Beach Blue Water View
For Stu's stag day we did an early morning golf round, starting off at 7am. Apparently no one could play golf but when people started playing that didn't seem the case (if you can hit the ball in the air then in my opinion you can play golf) so when I tee'd off at the first hole the ball shot off at a 50 degree angle from me and hit a duck (yes the actual animal) but I think it was alright.
We also did a pub crawl around Byron and then played poker in the evening which was really good fun. When the wedding day actually came it was a beautiful blue sky day and the ceremony was beautiful. I was chief videographer for the day so I don't have any pictures from the ceremony and Amy was bridesmaid so couldn't take any. The evening party was at Clarke's Beach and the first dance was a bit special, Amy took a photo, you can just about see me in the background doing some film work –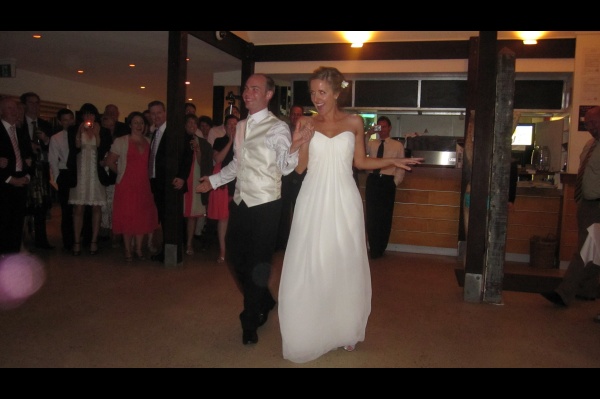 Simone and Stu Wedding Dance
It was a fantastic day that went all too quickly, not helped by John telling me it was 21h30 when it was actually 23h30 (he came down from QLD and got the timezone the wrong way around). There's a video of the entire wedding, which almost didn't happen, I had 5 minutes of battery left with about 30 minutes of filming left to do, thanks to Allison for dropping me off back at the homestead to get the charger and averting that potential disaster!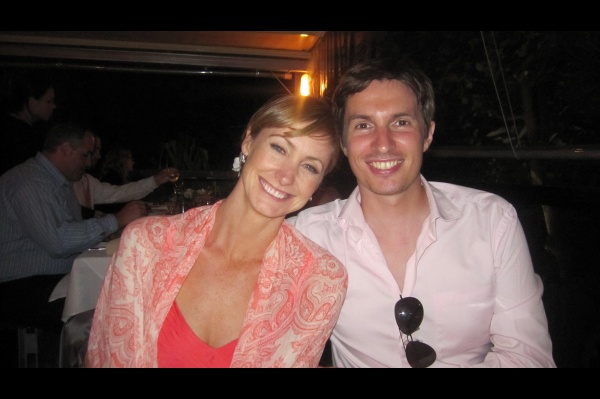 Amy Bridesmaid and Me at the Wedding
A fantastic week Amy that felt like a month with all the different activities we fitted into the time! Looking forward to the next trip!