February 18th, 2009
Recently when I went up in a helicopter over Sydney I took some photos which I changed to make look like little models the inspiration came from various sources on the internet but the guy who has taken it to the next level is Keith Loutit who also lives in Sydney, he has created some fantastic videos here's his latest one –
You can see more of Keiths work at his Vimeo Page
February 9th, 2009
Today in the post I got a nice parcel. In fact it was a special that I had to go down to the post man to sign something. That is the first time that had ever happened (special deliveries yes, but the actual post man, no).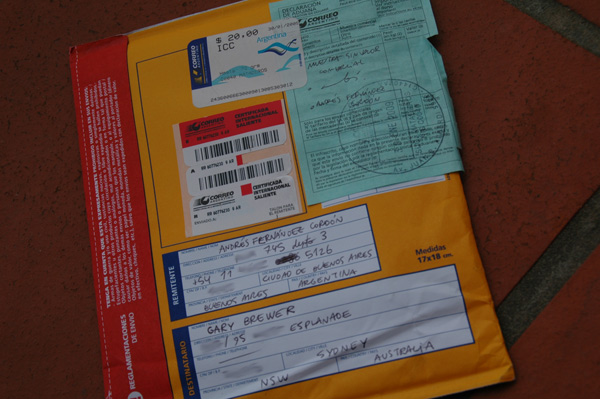 Very Colourful Parcel
Inside was a nice little letter from Andrés and a DVD copy of Yami and Andrés' trip over to Australia a couple of years ago now, it is funny because I was on my MySpace account, something I have not used for a while and for some reason, I think probably for a test, I uploaded the video there and watched it two nights ago reminiscing about those good times. So thank you Anhdres for sending the DVD version it is very nice!
The video is so good, if you have not seen it, here it is again in full technicolor –
February 1st, 2009
Last weekend Amy and I had a little holiday to Bondi. Bondi is exactly 10.15km away from Manly but it is a 22km drive and we wanted to experience the Bondi lifestyle for a bit, to see how the South siders mix it up (Manly is on a peninsular after all).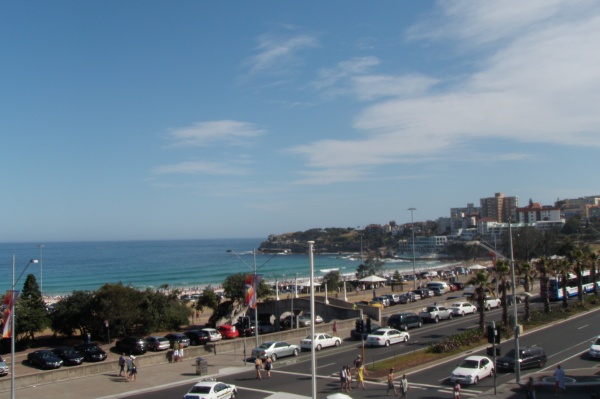 Bondi Beach from our room
It was a surprise for Amy so we stayed on the beach front with a view over Bondi, when we arrived it was the hottest day of the year in Sydney at a blistering 42 degs. so we couldn't really do much but lounge around, go in the pool and go into air conditioned boutique shops around Bondi. I wanted to have a look in the Aqua Bumps gallery but couldn't find it. I later found it that night but then found out it was going to be closed on Sunday!
We went out in the evening for Thai at a place around the corner from us which was fantastic, mostly because the peanut sauce and other sauces were given in a jar so you could have as much as you want. The next day we went to Sun Cafe with Mike and Rach for breakfast and coffee, we then joined them for a swim at Icebergs, which is right on the water which was very nice. Mike swam 20 laps which was amazing. I did 2 but I was on holiday. We actually got sun burnt a bit at Icebergs not realising how strong the sun is even when there's cloud cover.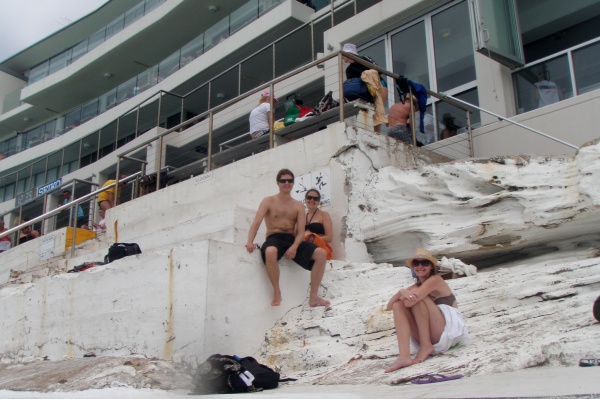 Iceberg Dead Ahead
Rach and Mike recommended we hit "Rum Diaries" for dinner that evening, so we booked in. It is a tapas restaurant which was very funky. On the street outside there was a couple of couches with a real working old fashioned record player playing some tunes.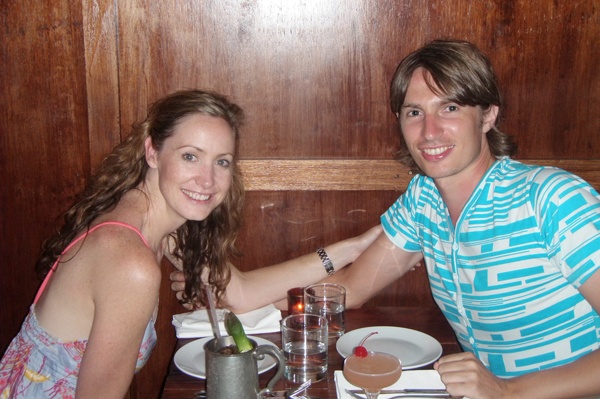 Amy and I at Rum Diaries
I had one of the best drinks ever called a "Hot Butter Rum" with their own reciepe that was absolutely fantastic, it tasted a bit like mince pies, it reminded me of Christmas despite it being 42 above.
A great holiday getaway weekend that proves there's lots of things to see and do in very close proximity!