August 27th, 2006
It was a lovely weekend, a bit of low pressure was lingering around but it soon went and we were left with some glorious sunshine. Some news from the home front, Dino has just jetted off to China to teach children / make knock off Prada bags as Gino says. So now he's on the same side of the planet there's a chance of a visit to Guangdong or wherever he may be.
After a trip to Bondi Junction and getting a BBQ ready for some summer fun, we met up with Rach and Mike who had got back from their trip from Europe recently, here is Rach, Mike and Amy at a cafe in Bronte on the Southern Beaches of Sydney –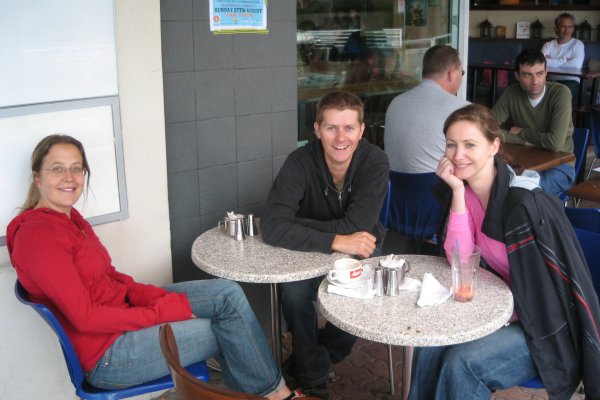 Rach, Mike and Amy in Bronte
That night we headed off to Simone and Stu's where Nancy and Marcus were getting the party pumping by doing their tax returns online – the fun never ends. Simone and Stu cooked Lamb Shank which was gorgeous, we had Polenta as a base which was much debated as no one really knew how to make it the correct texture.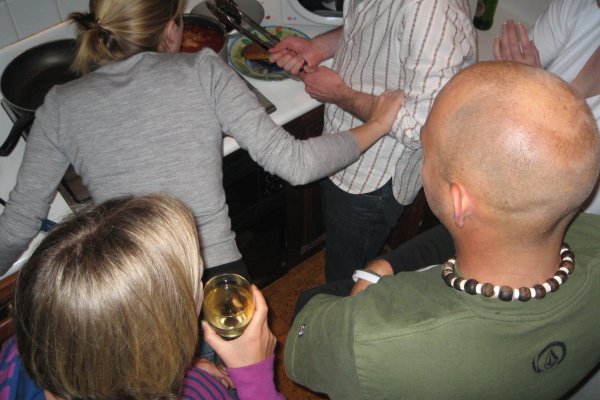 Polenta Tasting Ceremony
Here we all are about to tuck in the shanks –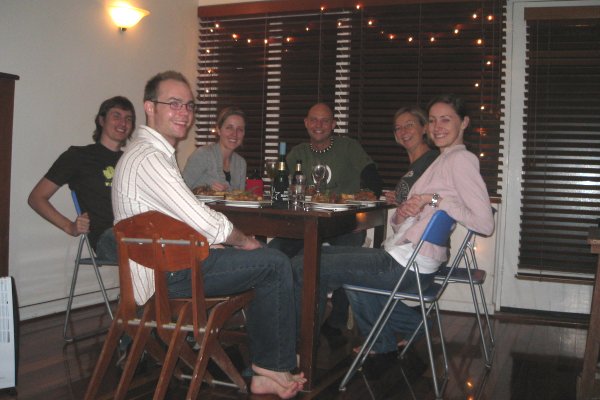 Lamb Shank Dinner Yum
An excellent night and some great conversation and tax advice shared amongst us. Amy and I spent the next morning getting ready for the barbeque that we were putting for some of the crew. We got a great BBQ for pretty cheap at K-Mart so we rolled it out. Here's Chris ( T-Bone ) and me with the new barbie which incidentally has some T-Bones cooking on it.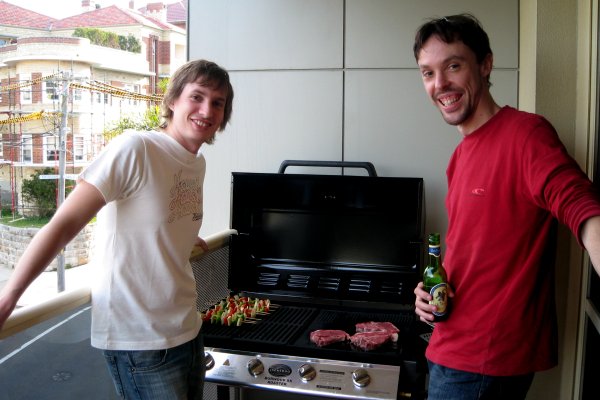 T-Bone and I with some T-Bones!
The BBQ went down well here's the gang in the living room –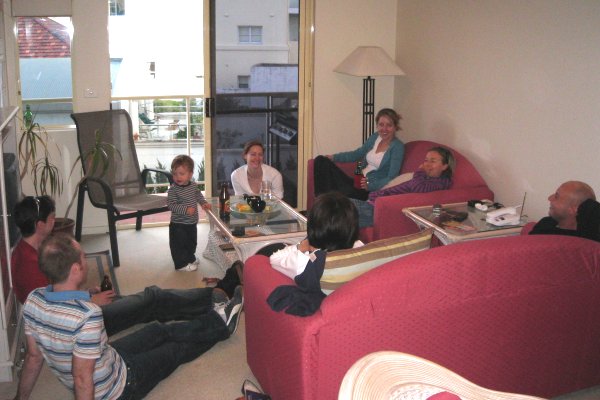 Busy Living Room including Child
That was it for the weekend on the surf front I've got a new angle of approach, I am going to take it back to the golden days with Magnus and Fizzer when we used to rid the mals, so hopefully we will get one of those soon and wait for some smaller wave variety, with a plan to get into the tube sooner rather than later!
August 21st, 2006
Amy went up to Brisbane for her sisters hens night so I was "home alone" for the weekend. Marcus and I went out "surfing" in the morning at Long Reef beach in Sydney's fabulous winter weather. I put surfing in quotes because mine has not been that great recently but still it was good to get out as it was not that big, the shoulder still gives a bit of jip when I really try to push onto a wave then there's the raised heart beat from slight fear of doing the injury all over again as well as the lack of fitness during the recovery period. Hopefully the summer will help bring all the good ole days of surfing back again, might even get a new board…
Got slightly put off when we got to the beach as it was the first day I saw a shark on the beach. Fortunately it was literally on the beach –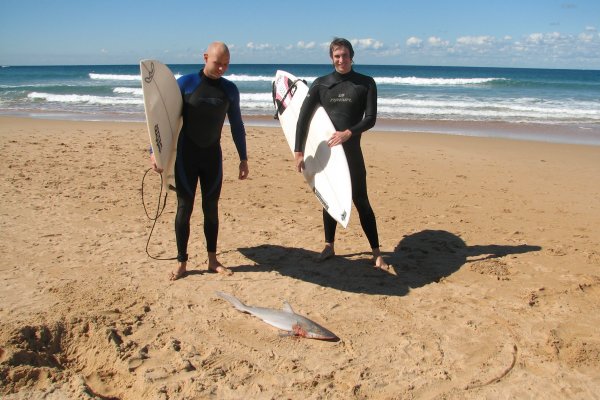 Marcus, myself and little shark
Here's a close up of the bad boy –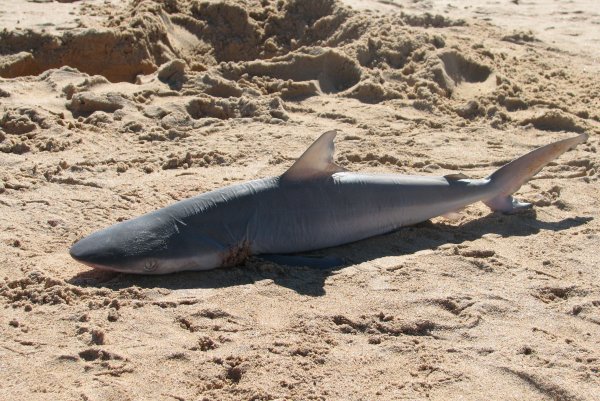 Mr Shark
Thanks for the photos Nancy and Marcus. Amy took loads of photos of her sisters little bambino Coops at the weekend, so I've put one up here for everyone to see, a cute little baby I'm sure you'll agree –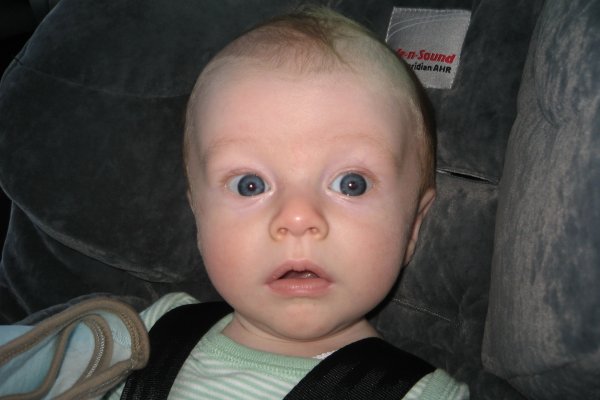 Your ma boy blue!
On a technological note (yes, time to stop reading), I've got a new charting component in development called Chart33 which I plan to use the "Release Early, Release Often" principal. It's first "release" is not in downloadable form but as a part of GlobalSurfari, here's an example of a chart as part of the google homepage plugin. Goto the GlobalSurfari.com homepage for bigger better graphs.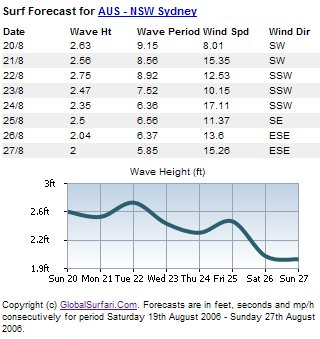 Chart33 on GlobalSurfari.com
Have a good week!
August 14th, 2006
So a bit of time has passed since the last entry that is because of the super busy lifestyle that Australia is renowed for.
A long while ago now, Amy, Nancy, Simone, Marcus and Stu went out for dinner and then ended up having a few drinks at the Manly Wharf Hotel –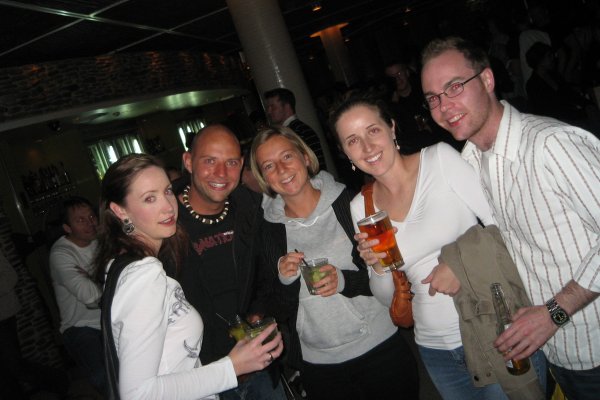 Last weekend I kayaked over to Reef Beach in Manly whilst Amy jogged around there and looked at the view. Here is Reef beach with the little Kayak in the background –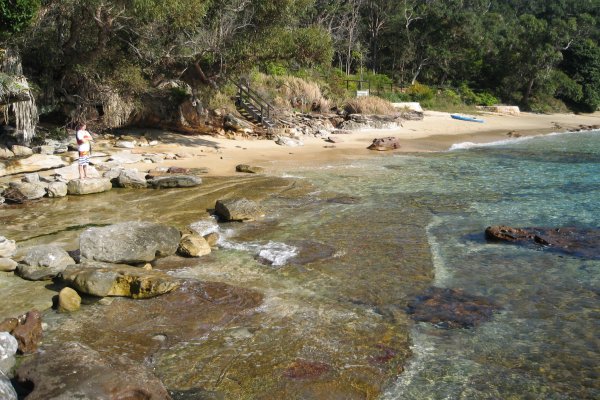 Reef Beach
Simone and Stu were very nice enough to get my a fishing rod for my birthday, after getting a fishing licence I met up with Stu and headed down to Chinamans Beach for a fish. We caught no fish at all, some kids came over and asked us how many we caught so far, we told them zero, I asked them how many they had and they told me they hadn't even started. They came back about two hours later and told us they caught one, we on the other hand, had failed to catch even a bite, oh well, next time!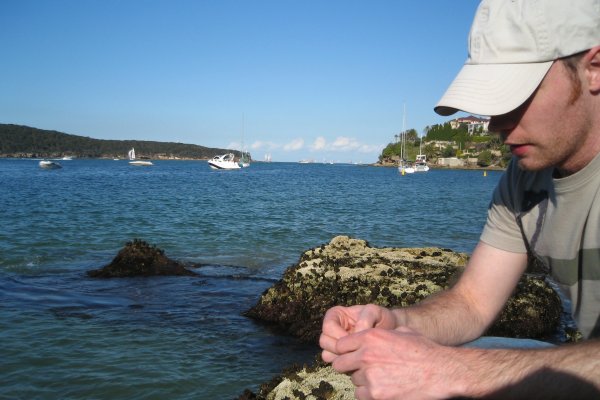 Stu Lineing up a Hook
On Sunday Amy and I went to see Cirque Du Soliel – Varekai which Amy got me for my birthday, it was really good fun but also very nerve racking watching some of the guys do the tricks they were doing. We couldn't take in photos inside the tent, so I just took this one picture of the tents from the outside as they looked cool –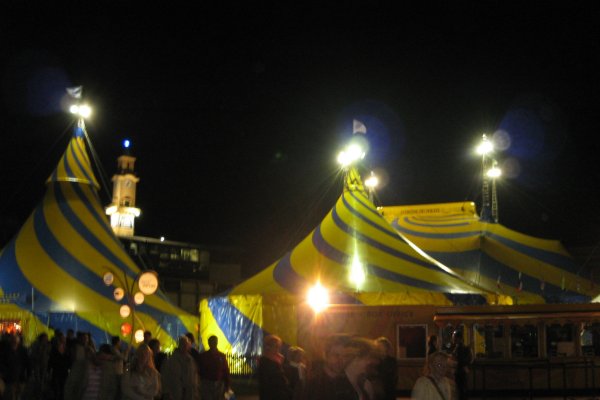 Cirque De Soleil Tent
It was back to work on Monday, I recently moved desks and now get a nice view which is refreshing!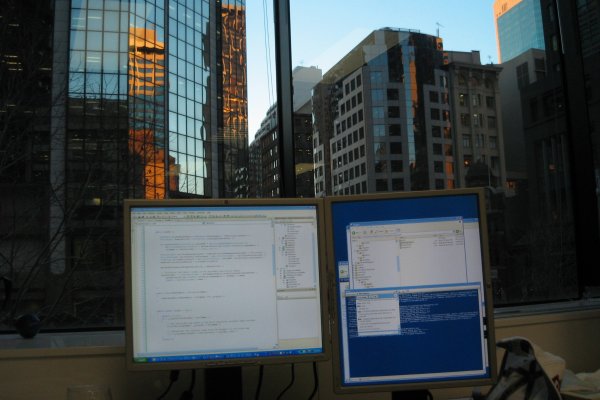 Downtown Sydney
Lunches are pretty cool at work, today we sat on the grass on the wharf, here is the group of colleagues have some nice sandwiches by the Opera House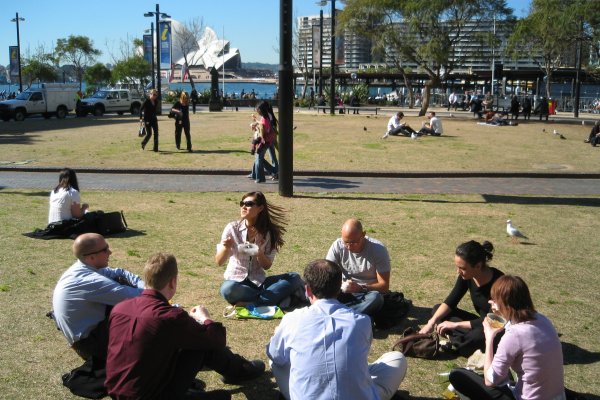 Brian, Sausage Dog, Fish, Sharon, Naomi, Marcus and Corrine @ Lunch
Well that is it for this entry, have a holiday coming up in a few months, Amy and myself are off to Fiji for a week for some R&R by the beach!